July 7th, 2010
by welcometojapan:hellokitty.com
"Imagine walking to the same place everyday to meet your best friend. Now, imagine watching hundreds of people pass by every morning and every afternoon. Imagine waiting, and waiting, and waiting. For ten years, that is what Hachiko did."
There is a statue of a dog at the entrance of Shibuya Station. His bronze feet are bright and shiny, polished by thousands of friendly hands. This is a prominent landmark in Shibuya, and the spot where the statue sits serves as a popular meeting place for locals and visitors alike. In fact, when you say "Hachiko mae de!" or "Let's meet at Hachiko", people will immediately understand where to meet. But do you know the fascinating story behind the dog's regal bronze statue?
Unquestionable loyalty and faithfulness—these are the qualities that earned dogs the title "Man's Best Friend". One certain Japanese dog born in the Akita Prefecture epitomized these endearing qualities that he touched the hearts not only of the Japanese, but also of many people from around the world. Hachikō the Faithful Dog or chūken Hachikō is arguably the most famous and admired dog in Japan.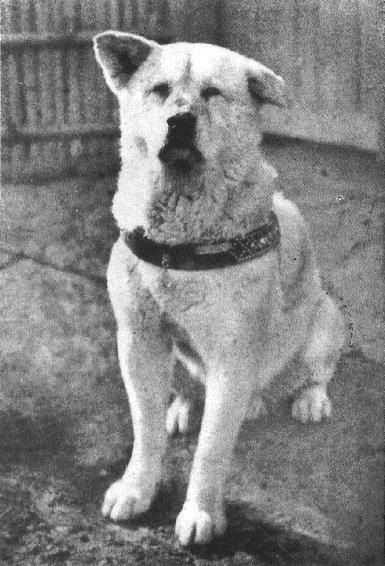 In 1924, Hachikō was brought to Tokyo by his owner, Hidesaburo Ueno, a professor in the agriculture department at the University of Tokyo. Each day, when Professor Ueno left for work, "Hachi" would stand by the door to watch him go. When the professor came home at 4 o'clock in the afternoon, Hachi would go to the Shibuya Station to meet him, waiting patiently and wagging his tail. This happy routine continued until one fateful evening, Professor Ueno did not return on the usual train. The professor died of cerebral hemorrhage while giving a lecture.
Hachikō didn't realize that his master was gone, and so the dog returned to the train station every day, waiting for a friend who was never coming back. He was given away after the professor's death, but he routinely escaped, showing up again and again in his old home. Each day, he returned to the station and waited—seated among the commuters to look for Professor Ueno, and each day, his friend did not show up.
Hachikō became a permanent fixture at Shibuya Station that he began attracting the attention of the people who passed through, including one of Professor Ueno's former students, and they brought treats and food to nourish him as he waited faithfully for his master.
On March 8, 1935, after nine long years of waiting, Hachi finally went to meet his master—dying on the same spot where he last saw his friend alive. A year before his death, Shibuya Station installed a bronze statue of the dog to honor his loyalty and faithfulness to his master. Though the statue was melted down during World War II, a new version was recreated in 1948 by Takeshi Ando, the son of the original artist.
Hachi's bronze statue remains standing at Tokyo's Shibuya Station, forever keeping his vigil and forever in the hearts of the Japanese.