02
Aug
by tsukihime:mymelody.com
well, the story how i found this book is because of my friend.. she was urging me to go to the high school library (anyway, i'm just a sophomore H.S student) to check out books so i decided to join her.
there were a lot of good books to choose from but i decided to read this cute children's story book - Star Girl by Henry Winterfield.
the story was really amazing and nice.. i'm really fond of story books so i decided to pick one. children story books really waken up my imagination and my creativity that usually sleeps in the other side of my brain..
so this is how the story goes:
A girl named Mo who claims she's from a star called Asra was found sitting under the tree in the forest by a group of friends namely Walter, Otto and Walter's two sisters Gretel and Lottie who lives in the town. Mo claims that she fell from their space ship and her father will get her back at night. Her father said she should walk toward Asra. She also surprised the kids when she said she was 87 years old but still looks 8 yrs. old. Walter being the oldest of them decided to bring Mo to their house because it would be very dangerous for a girl to stay in the forest alone.
When they are on their way to Walter's house, there they met their other friends namely Willy, Erna and Konrad. They made friends with Mo and Mo really cherished them as good humans. Mo had to wander about such things she didn't know. And some of her questions were answered by the children.
They reached Walter's house and they excitedly introduce Mo to their parents. But their parents thought Mo was sick and crazy. Their parents was going to decide what to do with Mo but suddenly their neighbors came knocking on their door and was asking about the "monster". Only to found Mo, they were surprised. But the commotion didn't end there when the town's Police Inspector came. He interrogated Mo and Mo thought he's a bad man after they confiscated Mo's necklace of pure diamonds. The necklace was a gift from her father on her fiftieth birthday, so when she found out that he's going to confiscate her necklace, she quickly stole from the Inspector's hands her necklace and ran away.
The group of friends chase her until they reached the very town. They were all exhausted and they still hadn't found Mo, but when Lottie pointed Mo to them they had the energy to run. They found her on a church crying. She thought that humans are good beings but it seems that it turned out to be the opposite. She thought that the World is Full of Tears. But the friends comforted her and claimed that they won't do anything bad to her. Now they have to walk towards Asra too to help Mo get back on her father without being noticed by the townspeople. They had a lot of adventure with Mo and Mo learned a lot with them, including crying.
Twilight came and they were all exhausted. They asked Mo which star they should walk to but Mo doesn't really know. She didn't know which star is Asra because there are a lot of stars to choose from. But Willy came out with an idea that Asra is the Evening Star. So, they walked toward the Evening Star but they met along their way Ms. Lim, the town librarian which they met earlier. Ms. Lim informed them that the Evening Star is not Asra but Venus. They all became hopeless. And they became more troubled when the townspeople found them. But suddenly, Mo climbed up in a tree and claimed that she heard her father coming. And her father landed together with other space ships and he thanked the children for being good to her. As a gift Mo and her father Kalumba, gave Walter a gift. That gift was her pure diamonds necklace. They all bid Mo goodbye.
~THE END~
So this is the main cover of the book..
there you see the sign (is that called a bar code?) that it belongs to our library
My receipt is the white one. and the pink is the book-borrower's receipt last 1979..
It's so old!!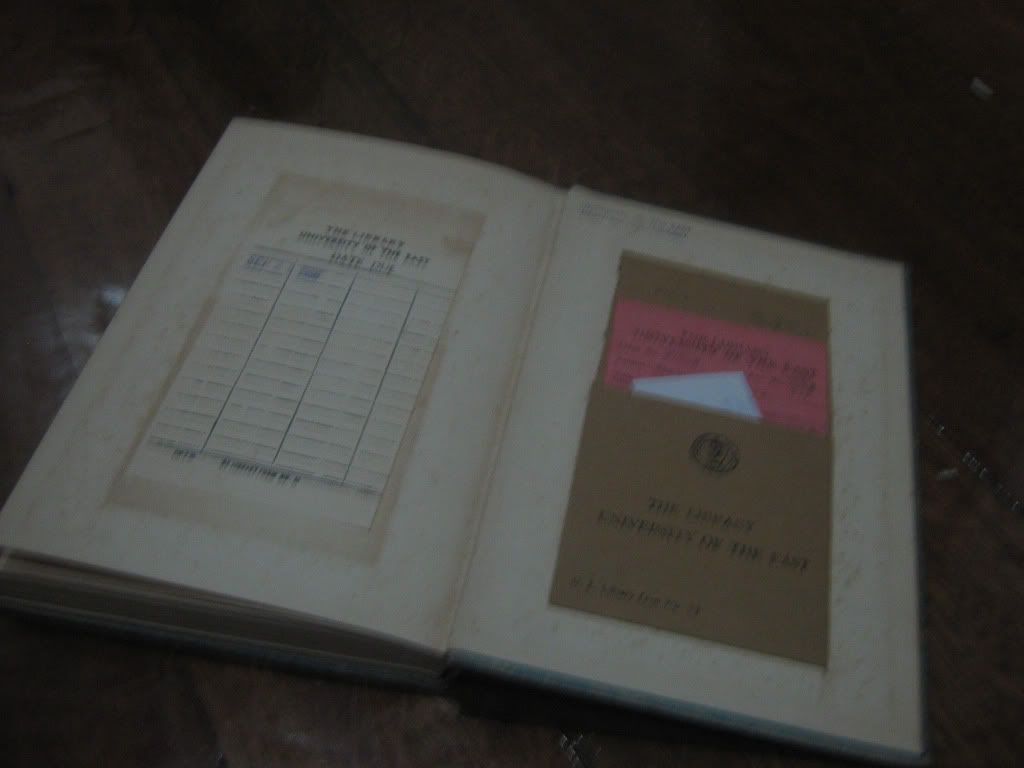 Books receipt..
The book's main cover.