December 15th, 2007
by superbong:hellokitty.com
Avenue Q made my day! <3
It started out to be very harassing and taxing because of the two exams that came my unlucky way – Public Administration 131 and 151 (Public Fiscal Administration and Local Governance). I used up 4 whole yellow pad papers for 131 and almost the whole of a blue book for 151. Both were 4 essay questions. Ick!
I was really exhausted after the exams that came after each other. (10-11:30 and 11:30-1) I totally hated the fact that I feel I didn't do good in the exams, at least for 151. I really do not like essay questions that would require you to write everything you know about a topic or concept. It really ticks me off.
Asked BFFL Reg and Tenai out to lunch after the exams. We ate at the grandstand. Janel joined us afterwards. I was surprised to see Richard Ong (XS'05) in UP; apparently he went with his friends to watch the Oblation Run.
Something came up in the afternoon; Tiff had two extra 500 pesos balcony tickets to Avenue Q! Don got one, while I got the other one. At that moment, I was a bit hesitant to go because it was a sudden change in my schedule, but I really wanted to know what the fuss was all about because of the good reviews over the internet, and since Tiffy's been raving about it all week now. I texted my parents about the change of plans. They didn't say I can't go, so I decided to give it a go.
Tiff and I rode with Renz and Patrick to Robinsons' Equitable Tower for the Outblaze Christmas Party. We arrived there fashionably early (so to speak). The new office is LOVE! It's really spacious and overlooking Poveda! "Yikee!" (Sorry, may I borrow your expression again? haha)
Since we were "fashionably early", Achi Michelle asked us to buy some gifts in Robinson's Galleria. Tiff and I literally went to every store possible (nook and cranny) to find gifts. Exercise! While looking for gifts, and having found nothing at all, we side tripped to buy these cupcakes – Smore (Php 50) and Truffles (Php 70). Smore is chocolate based with caramel core, while Truffles was wine based cupcake with nuts sprinkled all over. I loved both of it. Haven't had cupcakes that good in ages.
After finally buying gifts, we headed back to the new office (yes, it sounds really cool to have a new office!) and played Wii! Wario Ware! 3rd Rule: Leave all your inhibitions behind; and so I did. It was a funny/ emo-ish game, I had to do hula-hoops! Yeahboy!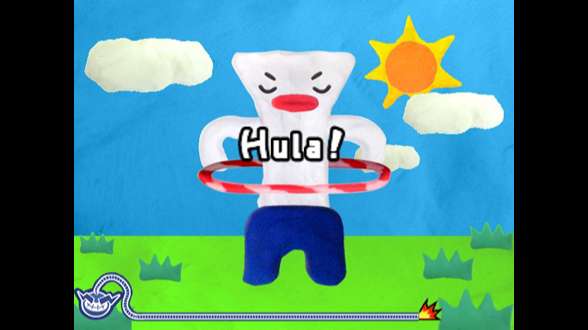 Picture picture! Buffet dinner! Lots of laughter! Vodka Tiff wanted to drink but didn't! (i didn't know you….hahaha) Too bad Tiffy, I must admit, Ali outwitted you!
We had to cut the party short, because we were watching Avenue Q. We rushed to RCBC plaza via MRT and a cab. We weren't that late as I feared we would be. The best part, well everything was great! It was all worth it! I would love to see the show again, even if I go alone!
I almost forgot, they ran out of the "schadenfreude" and "it sucks to be you" shirts they were selling! That was sad! (sayang talaga!)
Hitched a ride with Don to Q.Ave Banawe – had a nice talk on the way from Makati via super traffic Nagtahan. O_O
"The internet is really really great…FOR PORN! The internet is for porn! The internet is for porn. The Internet, the internet, the internet is for…PORN!"
These were simple things that really lighten up my day from an exam-induced deranged one.