Friday, September 28th, 2007
By White-haired Journalist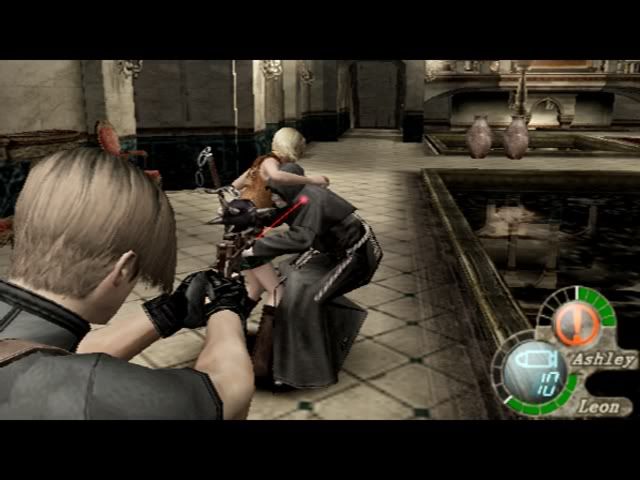 (Is it already violence if Leon shoots the enemy trying to kidnap harmless Ashley?)
There are many people today who puts video games in the category of violence. Whenever they see blood, gore, and killing, their minds instantly tell them that "it's violent." With this kind of stereotype, extremists against violent video games asserts that it affects the minds of children. This is probably in reference of the saying "Whatever the kids see that are done by the adults, the kids immitate." However, is the word "violent" really placed appropriately into such games? Are blood, gore and killing enough to label a video game violent?
My answer is no. Mere blood, gore and ruthless killing is not enough to call a game violent. Remember the incident where the Manchester Cathedral officials were furious with Sony when they found out that the cathedral was used as a setting in the game Resistance fall of Man? Seeing the game containing "violence", the church officials demanded Sony to remove the game from store shelves if they won't remove the church as a setting. Manchester Cathedral's Dean very reverend Rogers Govender also wanted Sony to pay them money, for using the church as a setting without permission, as "donation money" for the church to be used in their "funds for the youth." Well, I know you smell a huge, huge rat as much as I do in this case, but let's get to the point now. We all know if this case pushed through, Manchester Cathedral would lose because the law would definitely say that Sony doesn't even need to ask permission to Manchester Cathedral because it's a public place and if it even had a patent, it's already expired because the church was already there for a long, long, long time.
Thing is, they labeled the game as "violent." I wish the church officials researched for the word violent and even played the game for a while to see what the game really depicted. Let's summarize the game really, really short: Resistance Fall of man is a game where humans fight against human-turned-monsters (a.k.a. chimeras) to save humanity.
You see, there's a huge difference between the words "violence" and "fight."
Let's say a game has lots of blood seen in it, lots of fighting, and the killing detail is very detailed. However the story of the game is that the main character is trying to save his kidnapped friend in the clutches of an evil warlord. The sidequests in his game include saving people out of a flaming building where people burned there can be seen realistically, nailing down rapists by using his samurai sword where he cleaves them so cleanly with the gore so vividly displayed. Is that already "violence?" Or is that a "fight?" I'd say it's the latter.
Saving humanity in the brink of destruction brought by the chimeras is a fight that needs to be fought by humans. I don't think saving your race is that violent. Yes, even if it's inside a church. Besides, it's not as if the protagonist of Resistance Fall of Man actually urinated inside the church walls, did he?
I wonder what will happen if a kidnapper helds all the priests inside Manchester Cathedral. Will the priests drive away the police that try to save them because the latter carry guns? Will they label the policemen blasphemers because they fired their guns inside the church?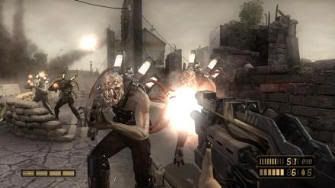 (Monsters like that will try to kill you and you WON'T shoot it? Even if it is inside a church I won't have second thoughts)
Let's look up the definition of violence. According to the American Heritage Dicitonary:
vi·o·lence - 4. Abusive or unjust exercise of power. 5. Abuse or injury to meaning, content, or intent: do violence to a text.
To quote that wonderful Japanese Live Action series "Gokusen," the main character there Yamaguchi Kumiko said something like violence is when 10 people gang up on one person while a a fight is when someone defends someone dear to him or when is fighting honorably. This exactly nails the definition of violence and I believe that there's such a difference between the two words depending on the situation. I don't think the protagonist of Resistance Fall of Man actually abused his power unjustly by saving his race.
Now let's name some games that have been labeled violent and I'll give a brief description of them. You be the judge if its a fight or violence:
1. Resident Evil - A game where the Raccoon Police Department officers try to take down an organization guilty of making the a virus that makes the citizens zombies.
2. Metal Gear Solid - where Solid Snake, the game's protagonist, tries to take down an organization that wants to bomb countries.
3. F.E.A.R. - Where special forces are trying to take down an extra terrestrial being that kills people.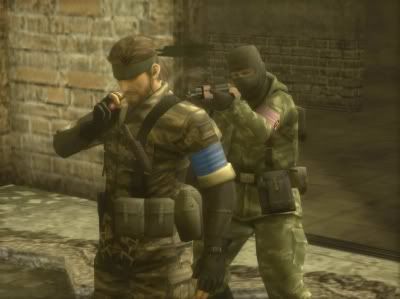 (Snake: What it's already violence if I defend myself? Self-defense is everyone's right you know)
In my point of view, these games have been labeled poorly as violence just because their visuals have been either too scary or too much gore can be seen (sometimes both). I, however, like to call them "art in realism" and couldn't find myself to label them as violence just because of the graphics they present. It's like judging a book by its cover, debating if chicken tastes better than beef, or comparing Superman to a penguin: it's completely pointless.
And if I'm going to be asked if these games affect the minds of children? I'd say it's how their parents guide them. There are so many grown ups today who can't be parents that's why many children grow up very violent. Other things contribute to a child's growth but I don't really think violent video games are the primary cause of it. If it may be so, there's no need to ban violent video games still, because it's like deciding to shut down the rooftop doors of a 30 storey building because a person fell down there and died. Video games are harmless. It's how people misinterpret realism and fantasy that's scary.