Current Mood:
Confused
Hi guys if you've noticed that some blogs have this new "mood" feature going on in some blogs like Kooh, its sort of a neat way to show people what you feel at the moment. Right now I'm feeling kind of confused becuase I'm trying to figure out how to get this post working.
Anyway, this is what you need:
1. The MSN Icons over at your homepage in Sanriotown. Get any that you want.
2. A photobucket account for you to upload your pictures.
Steps:
1. Upload your images into Photobucket.

2. After uploading it will show up in the bottom where the album is. Copy whats inside the URL Link.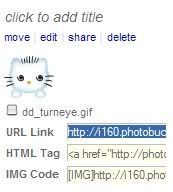 3. In the Sanrioblogs, once you create a new post, click on the insert image icon

.
4. Past the code that you copied from Photobucket and there you have it. It's up to you what to call your mood.