Hi everyone!
Guess what, in conjunction with GM Abby's newly launched HKO MySpace page, I bring to you ripplecloud's MySpace page! Here it is :D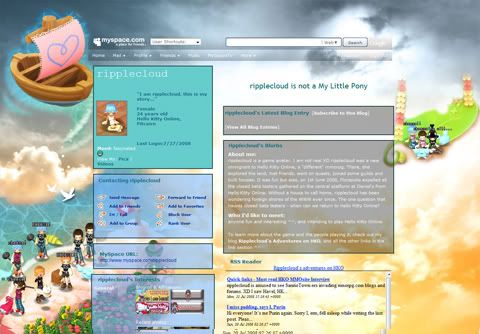 ripplecloud absolutely loves it! So much that I find it hard to tear myself away and come back to SanrioTown XP … so if you are on MySpace, do add me over there if you like :)
The regular HKO-related posts and updates will remain here on this blog. Meanwhile Ripple's MySpace page will give you quick access to my latest SanrioTown blogposts, DreamStudio movies, scrapblogs, music, random photos, and other stuff I like.
I spent some time exploring MySpace as I have never used it before, and felt very nostalgic when I found the FLYFF page. In one of my past lives, ripplecloud was several avatars on FLYFF :) , but I left the game because of vista problems and also grinding made it boring (and I was not even very high level xp). So I am very glad to find and reclaim my abandoned avatars and give them a home here :)