GM-RoAN is one of the GMs that I see walking around more often. I like him, even if sometimes he acts funny :/ and most of the time all he does is make = =' faces at me whenever I PM him with lame one-liners hee hee heee xP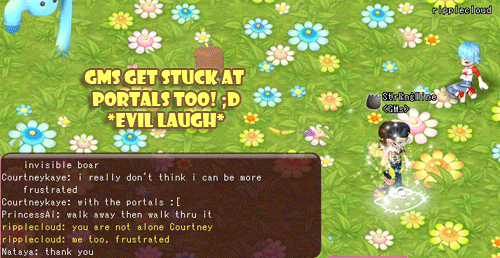 Teleporting - a special skill supposedly mastered by the GMs and Rescue Team only.
But liking him doesn't stop me from gloating when he gets stuck at portals with the rest of us mere mortal players … please forgive me GM-RoAN :P … (actually he is probably testing it, I dunno)

So ripplecloud reached level 18 and was finally able to wear the Roarer Top that MidNiteEyes made for me. :D
ripplecloud wore it everywhere, even when she was exercising in her pitifully bare backyard and bugging Katsuko about all the new quests that ripplecloud needed to catch up with.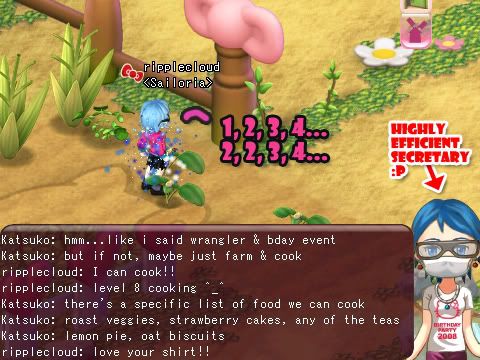 ripplecloud *heart* Katsuko, her weekend friend xD
It was then that ripplecloud started noticing the new Birthday Party 2008 t-shirt that everyone was walking around in in the streets! Hey! Of course ripplecloud wanted to celebrate Hello Kitty and Mimmy's birthday too! So she went off to find Chococat to see what she had to do.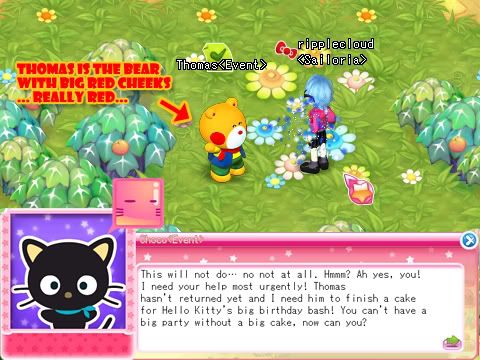 Note: ripplecloud strongly suspects too many players find Thomas so cute that they couldn't resist pinching his chubby cheeks, which is why his cheeks are so red. Haha :P
It was during this quest that ripplecloud made the acquaintance of Thomas.  Anyway, ripplecloud found Thomas to be a slightly confused and bumbling bear ;P but he did give her the right guide to make the birthday cake.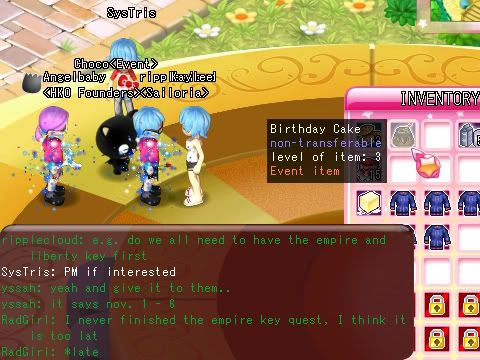 Yay!! After the empire key, ripplecloud is working to get the Grand Central ticket. It is really lucky that ripplecloud managed to get the empire key in time. If the quest deadline was not extended, she would not be able to make it…so thanks GMs!!
After meeting up with Chococat and Thomas, ripplecloud was supposed to go greet Hello Kitty Happy Birthday, but she had to make a side trip to Shaymin's farm first.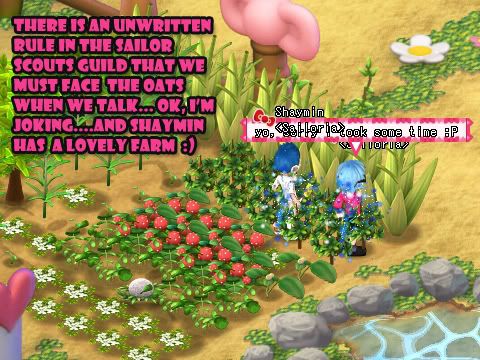 Shaymin's farm was lovely compared to my own bare farm :P
And then it was onward to deliver the cake to Hello Kitty's all day birthday bash!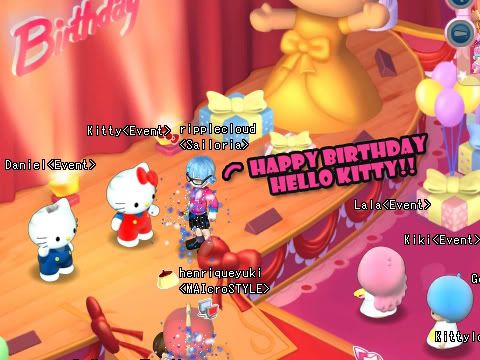 You can't see the cake in this picture because Kitty gobbled up the cake real fast :P Hee hee…
Mission accomplished! With the cake safely delivered, ripplecloud gets her Birthday Party T-shirt and the Grand Central Ticket hohoho!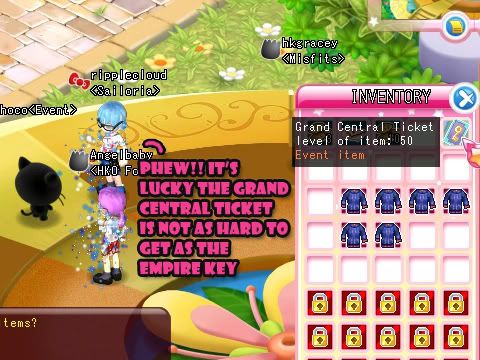 Hmmmm, why do I have so many roarer tops in my inventory?? :P
ripplecloud left the birthday party in a hurry to report back to Chococat, so she decided to return to check out the party scene.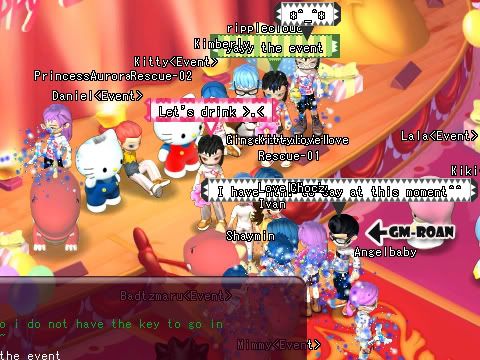 Some players got the time wrong and gathered extra early at the party room for the event.
It was bustling with excited players, even if GM-RoAN had nothing to say for the moment heehee  :P And Rescue-01 dazzled us with her flashy magic teleporting skills.
Well ok, Purin was more excited about the food than about the magic teleportation display.
Meanwhile cinamoroll was asking to go out of the party room because the party shifted outside. I guess it was just too hot with too many people in the room hahaha :P So here we go airing ourselves out in the open instead. Well except Cinnamoroll since he had to jump at the same spot in the party room. (Please don't ask me why he was being punished in this way, I don't know.) And of course, Purin is too heavy for me to drag away from the food. I mean, LOOK at his waistline and then look at mine! xD
Anyway as I was saying,  here we go airing ourselves out in the open.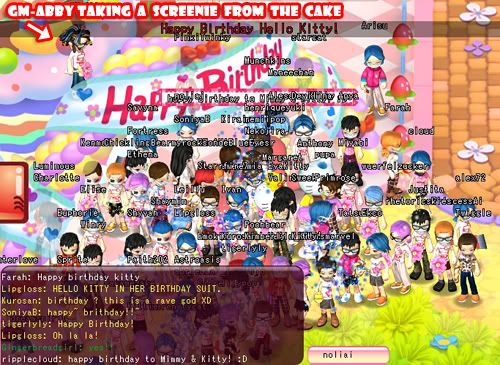 It was not only Kitty's birthday but Mimmy's too!

The giant birthday cake and balloon gateway was really cool ^^
We couldn't wait for the party to really begin. :)

Search this blog for more posts tagged "HKO event" "HKO friends" "HKO items" "HKO GM"
Related posts
- Hello Kitty's birthday to be held in MMORPG by online game blog
- Happy Birthday Hello Kitty! by hkoevent blog
- Happy Birthday Hello Kitty! by noliai
- Hello … Kitty? by noliai
- Happy Birthday Hello Kitty by BBE
- Happy Birthday Mimmy! by Noliai