November 30th, 2008
by ripplecloud•云云 :D
OK, I finally am getting to more posts about Sailoria, if anyone is interested in Sailoria the Guild at all :P (I think most regular visitors to this blog is actually not from our guild :P heehee) Anyway, this is about that making of the Sailoria guild in Founders' Beta… well sort of…as much as I can tell since I wasn't there :P wahahahahahahaha!!!

When it finally became possible for level 20s and above to make the guild in Hello Kitty Online, Sailoria, deadrose and ripplecloud met up to pool all our funds together. And nowhere was a more appropriate meeting place then where we all left off the last time we were in the game… at the ex-Daniel's platform!
It soon became clear that we have a challenge here,
1. none of us were level 20
2. none of us were rich
3. Sailoria would not be in the game very often because she was travelling to take care of a family member that was not feeling too well.
But it's alright, the guild was there in spirit even if we were lacking a guild chat for now :P I am especially greatful to my friends from the blogs or Made-in-Holland guild Kel, Noliai, MidNiteEyes, AlmightyTallest and everyone else who donated or helped in some way or other.
But the person that we need to thank the most is doubtless our miracle blond - BlondeBlueEyes (my fate-d *lol* HKO friend from close beta)
To keep it short and sweet (because this is really BBE's story to tell :P), BBE became the chief financier of the Sailoria guild when she magicked 30k out of nowhere, and sweet-talked our high-level Devilina into paying the guild guy a visit.
The good news was - the guild was made in record time with Devilina as temporary leader!
The more interesting news was that there was a typo :O, so we became the Sailoria Guild instead of the Sailor Scouts Guild :P
But the guild was made! Oh joy XD You gotta love BBE for that!
So here I am with my red ribbon during the game prime time for my country…
But it was not long before mates from our newly-minted guild came to check out the local scene… and guild leadership was transferred to Sailoria!
…and to talk about our favourite topic - food … Yes, the BBE is big on instant noodles as a cuisine.. so sometimes the conversation veered that way XD… and yes the certain fluffykitten that crept into the conversation did join our guild somewhere along the line :P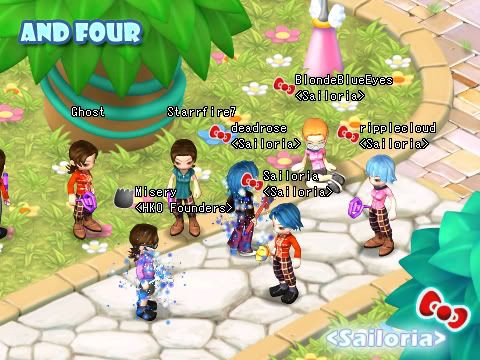 deadrose was an original member of Sailor Scouts guild. It is so sweet that her husband joined the game in Founders' beta and later on became a member of our guild. :)
And we also have yssah, one of our CB mates from Made in Holland.
And then later on, PrincessAurora and ContessaVI (independents in the pic above) joined our happy gang of Sailor Scouts as well…
And as new members joined at every turn… Kat, Katy, winterlove, Yoite, Naifu, Carlos, Avancia, Veladonna…
It wasn't long before we became a BIG gang of Sailor Scouts! And I bump into someone from the guild, everywhere I go :P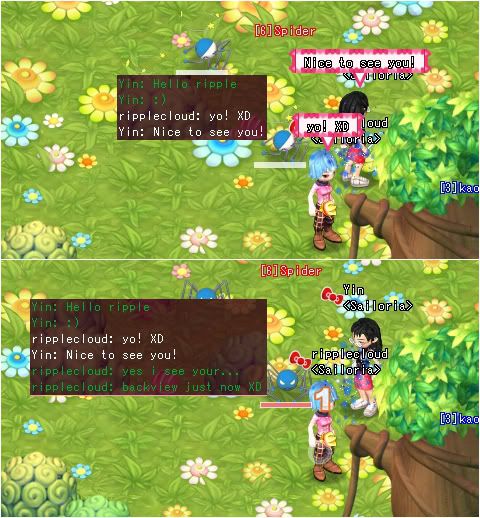 Yin is the guild cheerleader during the FFF event :)
Sometimes, we fill the streets with our red ribbons…
So it's hard to skive off, since there's more members who come upon you by chance…
But, it's also great to have so much company around and online throughout the 24 hours of the day.

Kaioh75 and Faith were also fellow CB testers
Help, fun and laughter with old friends and new are only a guild chat/PM away ;)
Note: There are of couse lots more Sailoria members, apologies if I am unable to include you here in this post :P
Related links
- so you wanna know how I made money? by BlondeBlueEyes
- All Sailorians are manee! by manni
- The Guild, Farming and my friend made me a siggy tag by radgirl
- HKO Founders by faith202 
- Hello Kitty Online by mango
- New found friends by millette
- Feature: The Sailor Scouts Guild by HKO team
- How did the Sailor Scouts guild get so big in Close Beta? by sailoria
- 18th entry - The Sailor Scouts Construction Company (CB final day part 5) by ripplecloud

Search this blog for more posts tagged "HKO guild"