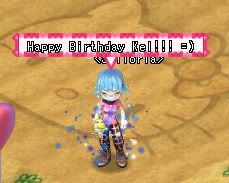 Hi all,
Yes I know this blog has not been updated for a week, so here is the latest post! XD
But first, just wanna say Happy Birthday to Kel because it is her birthday today!! XD *throws confetti yet again XP and hugs*
Oh and also you will by now know that the Sailor Scouts guild is up. If you would like to join our big family, just PM me or Sailoria. And also welcome to all our new guildees!!!! Yay!!!
Have you guys gotten your empire key?? I'm still working on mine. Thanks alot to guildees and friends who have helped so much today and in the last few days!!! :D

After ripplecloud's jaunt to Florapolis, where she met the loony GM-RoAN XD, she returned to Sanrio Harbour. There were a lot of errands that she had to run for all the strange, new NPCs. It was a busy, busy day and ripplecloud did her best to finally get some new clothes over her underwear ;)
Running errands was hard work and ripplecloud found she had to return repeatedly to Nyako's to rest. It was here that she bumped into another blog buddy Kiyoko, who was disguising herself as PrincessAi. Hello Kiyoko, great to meet you! *time spent chatting*

image from Kiyoko's blog
Then it was off to yet another errand. As she passed by the Kitty Pond ripplecloud heard loud growling noises. It was Grimlock, GM-Neverender's pet.
GM-Neverender was sitting quietly in a contemplative manner staring out at the pond. It looked to ripplecloud like a scene of out of a kungfu movie, where a martial arts exponent contemplates the scenery (I think its because of the hair). Anyway, Grimlock was very upset with GM-Neverender, who was ignoring him. Neverender did not respond even when his roaring pet moved to right in front of him, blocking the view, huffing and puffing in outrage.
For a second there, Leafray, Karu the crab and ripplecloud were almost sure that Grimlock will gobble up his master :O
Thankfully that didn't happen, although Grimlock continued his menacing growls. Ripplecloud couldn't stay long because of her errands, and she soon went away. At least there was Leafray and Karu the crab watching over those quarrelsome two. :\
Another aggressive encounter with the mob led to yet another rest stop at Nyako's, I did mention I had to rest repeatedly XP. And so did Kiyoko and Remedy. Kiyoko made good use of her "princess" time there, getting a massage from Nyako ;P *more time spent chatting*
OK, up and away to the next NPC Landry! Gosh this is turning out to be a long day! But guess who ripplecloud bumped into at Landry's? It was Dawn LaRee!! :D OMG, finally ripplecloud meets a long lost guildee from Sailor Scouts *waves excitedly and more time spent chatting, and taking screenies*.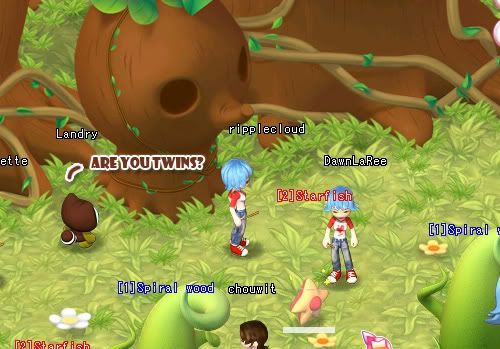 But all too soon we had to part ways, and get back to our own errands (honestly what will the NPCs do without us??!! XP) And I was hurrying along again when I bumped into Grimlock. This time he was alone because he has ran away from home = ='
Honestly, the pink dinos have got to be the most troublesome pets in the world. Remember Kel's dino whose hobby was leaving poo in the farm garden?
Hallo runaway pet here! Where is GM-Neverender anyway? *goes to look for GM-Neverender*
Finally after a hard day's work of errands and looking after runaway pets, ripplecloud took the time to relax. She attended the worm party at Kev's where she met new friends! :D
Muahaha, the funniest thing was I only got to know Angel and Sugar-chan after the party through their blog entries about the worm party. That was how long the worm was, I didn't even know Sugar-chan was there! XD
Check out Angel, Sugar-chan and Yggdrasil's blog for more party pictures!!!
Related posts
- First order of silliness of the day inside HKO
- Angel's memory #1- the first two days in HKO world
- Sugar-chan in founders' beta
- XP - Kiyoko sees ripplecloud
- Dawn's HKO founders' beta pictures
- 19 entry - we meet again GMs, in a changed world
- 15th entry - Kel's pink dinosaur (CB final day part 2)
- hunger strike


Search this blog for more posts tagged "HKO GM", "HKO NPCs", "HKO friends", "HKO pets"