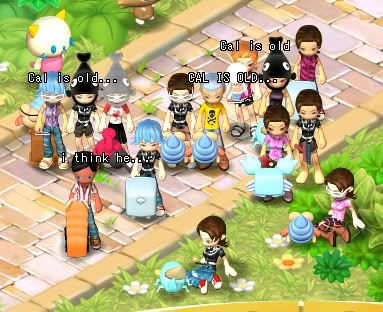 Hi everyone,
Founder's Beta is starting real soon so this will be the final entry made up of Closed Beta screenshots. Woot!!
Can't wait to meet everybody, including GM-Calealen, who is old XP… and Karen/Plutochan, Starrfire, msmisery, iheartbadtz, fairlady, Noliai, foxy cleo, angie, bunnywinx, chickling, kiyoko, victor5, havel, theola, tidesong, videogamer, hkfood, sailor scouts, Sailoria, BBE, Dawn, Kel, Little Wonder, NoMeNot!, MidNiteEyes, Kaioh, shesroyaltee, and the list goes on… omg, sometimes like Yingdong, I wish can I belong to several guilds all at once! Muahahaha… Anyway this picture was instigated by GM-Tadakatsu.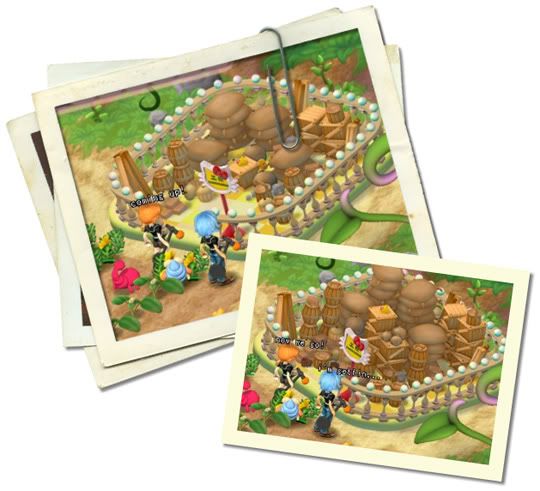 Remember all the houses we built in ripplecloud's virtual musces at work scrapblog? Well of all these houses, we almost couldn't complete BBE's!
And that is not because BBE had fallen asleep while playing the game (although she does that at times! XD; who wouldn't if one has a big fat Dino for a pillow ;P )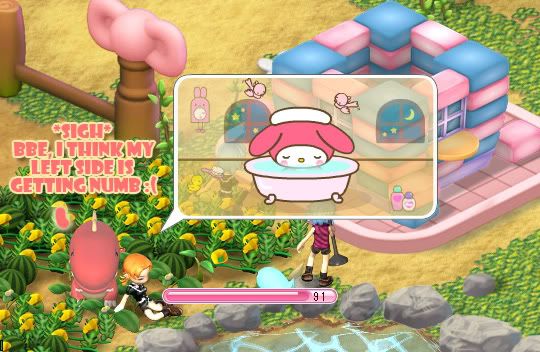 In fact, at one point BBE had completed her house, BUT it disappeared again! Rollback? Possibly.  Whatever the reason, all we could do was to roll back our sleeves and start whacking at her house again.
But at late afternoon Asia time, there was nobody else from the guild online :O So the house building went really slowly, with only the two of us cultivating it.
Imagine our surprise when a cute blond appeared before our eyes and said:
"I am Sailor Moon, the champion of justice. In the name of the moon, I will right wrong and triumph over evil… and that means my guild will help you build your house!"
She was Sailoria, the leader of Sailor Scouts guild.

By the way, her birthday seems to be around the corner.
What a kind and generous offer! But it took quite a while for BBE and I to leave Made in Holland and join the Sailor Scouts. :( It's surprising how one can get attached to something in a few short weeks.
But at the click of a button, our new allegiance was sealed. And more sailor scouts appeared out of nowhere to help build BBE's house. Woot!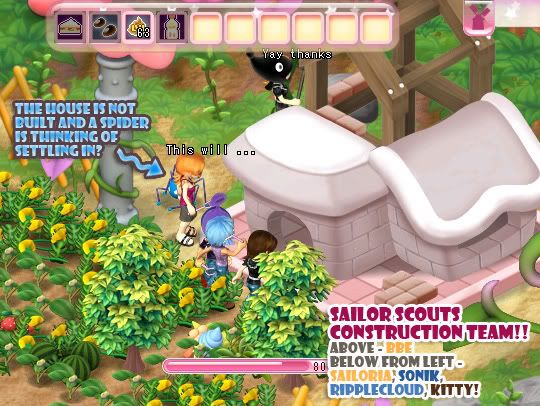 The guild chat was buzzing with activity as we whacked at the house. Sailoria told us about how her guild had completed all their houses. Since she was free, she started visiting other houses and found Debbie building her house all by herself! Sailoria offered to help her then, and that was how the Rescue the Homeless movement started.
[Note: I was always feeling guilty because Debbie had PM-ed me for help but I couldn't leave BBE's house :( So I am still extremely glad that Sailoria found and helped her when she did. ]
BBE's house was soon completed! But that was not the end of this story. Some of the Made in Holland friends came online and joined the Sailor Scouts in helping the homeless as well! There was Kel, NoMeNot!, MidNiteEyes, Kaioh, LittleWonder :D It was as if we were all infected with Sailoria's energy (and she was energetic considering she had gone without sleep for 24 hours!) and we went on to help with the other homeless players.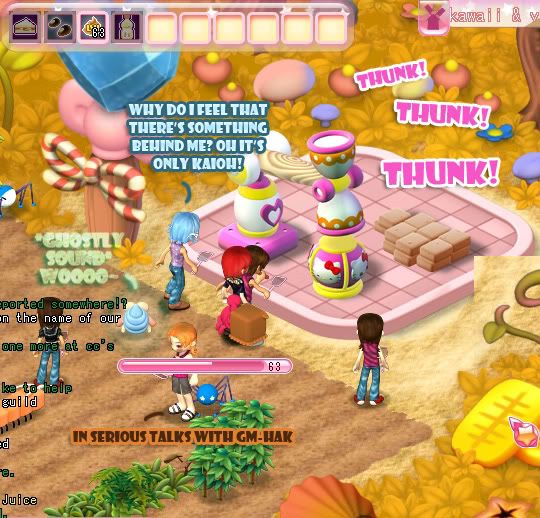 There is a bug somewhere in this picture :P
And then another…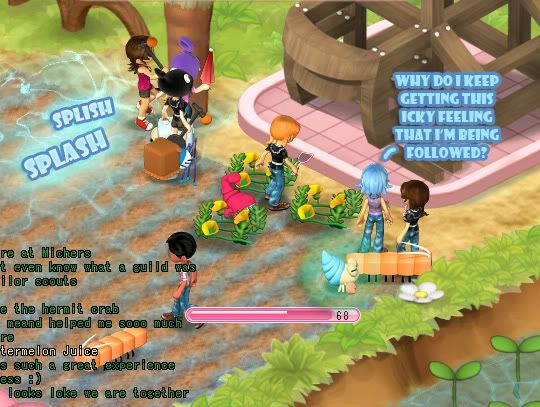 It is awful to be building while standing ankle deep in water :( I strongly advise against this padi-field themed farm! …. XP ok I am joking …
All the time, Sailoria was coordinating with GM-Hak to deploy construction volunteers where needed. GM-Hak (the brown guy with the caterpillar) was also walking around the farms to ensure we don't run out of juice.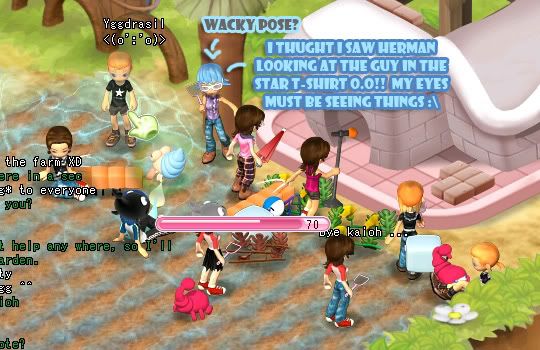 We started on Micher's house pretty late and even the GMs were unsure if we could make it, although they said it was worth a try.  Perhaps we were the last house building, so there were people stopping by to see the last ditch effort. It was like a house party, without a house :P
We tried the best we could, but as the clock ticked by and Micher kept being disconnected, we could not complete this house in time. :( But Micher was very grateful and even sent us an email after that. I hope you are getting along well in life Micher, wherever you are!
In the final minutes to the end of HKO Closed Beta, we gathered together in Florapolis at Daniel's platform and waited for the end.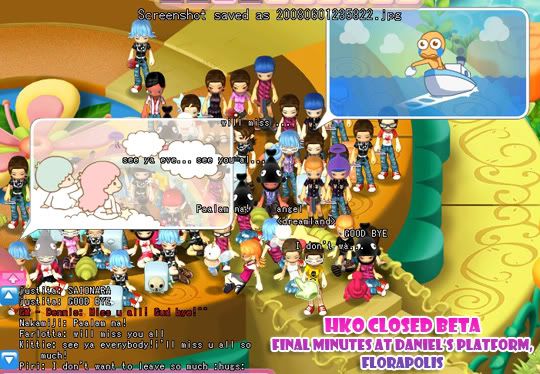 Fast and furious words
resistance to depart, still
the server closes.
Related posts
- How did the Sailor Scouts guild get so big?
- An emotional moment in Hello Kitty Online
- Hello Kitty Online… Disconnected
- Bye bye closed beta!
- Thank you to all our CB testers
- Really old forum thread that CB testers went to directly after being disconnected from the server
- 17th entry - The herioc rescue of Kittie (CB final day part 4)
- 16th entry - HKO Closed Beta Makeup Preview (CB final day part 3)
- 15th entry - Kel's pink dinosaur (CB final day part 2)
- 14th entry - Picnic in Style (CB final day part 1)

Search this blog for more posts tagged "HKO house building", "HKO GM", "HKO guild"