October 27th, 2008
by ripplecloud•云云 :D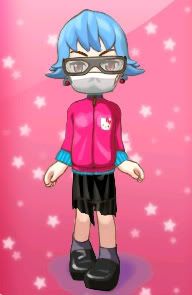 Hey guys, sorry for the late post :P I got carried away trying to get to level 18 so I can wear my Roarer top :P
.
See it's this pink jacket with Hello Kitty on it :D
.
MidNiteEyes made it for me for when I turn 18!! This top has another significance ;) heehee, to be revealed in due time!
.
If a guy wears this, it turns blue but doesn't have Hello Kitty on it. the_otakutopian thinks that's unfair and I think so too! If there can be a character in the male version, which would you like it to be? Daniel? Purin Of course! :P
.
Now should I change my hair or not? *ponder ponder ponder*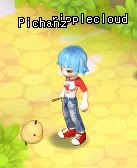 At level 5, ripplecloud's bad friend AlmightyTallest plotted ripplecloud's death many times over by instigating ripple to go to London.
But look what I found at London! Pichanz! So cute!! I hope Pichanz is one if those NPCs that you can get as your pet when this game is properly launched! Can you imagine Pichanz staggering under the mighty weight of hunks of fresh meat, sharp talons, lynx paws and other bloody drops in my inventory? Wahahahahahaha :P
And while I was watching over the innocent little Pichanz… the conversation was all but innocent…
Anyway Pink Bear and LittleWonder have been asking me why Purin has been so quiet on this blog. Well…. Purin's sort of missing :\ I didn't see him at Sanrio Harbour or Florapolis. I asked his good friends Bagle and Scone, but they had no idea either
(although if you ask me they did seem pretty happy that Purin's not around…). Now where is that silly puppy Purin?
I got the permission of PrincessAi to speak with the oracle.
Great, there are lots of pudding in HKO, which one????
I went to the newest popular hangout place to ask for help. But I was distracted by the harbour salesman Yggdrasil, who let me try on his new dazzling necklace.
Never show a girl pretty things, my friend. Her brain flies out the window.
I heard Scone came back to the harbour as well. Maybe he knows something by now?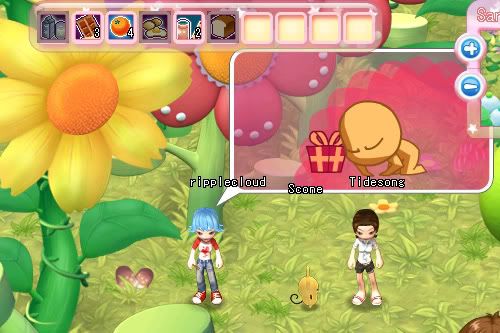 Scone!! I'm giving you a present and I'm on my knees!! Tell me where Purin is please!! Stop talking to Tidesong!!!! :O
Ok, Scone told me to go ask Purin's Papa. Makes sense.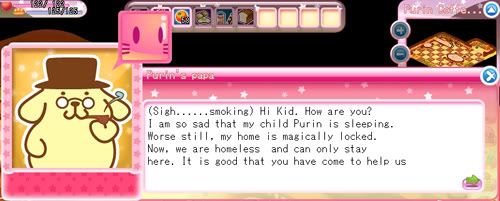 That lazy puppy is sleeping at home and stopping us from finding him by magically locking himself up???!!!!
Related posts
- HKO, Day 3 by BunnyWinx
- Hello Kitty Online Founders' Beta by Tidesong
- 6th entry - Where is Hello Kitty?
- Purin's blog

Search this blog for more posts tagged "HKO fashion" "HKO friends", "HKO NPCs", "purin"