I worked late and it was past 12am by the time I reached home on Thursday. Maybe I was too tired so I started seeing things? But there was definitely an excitement in the air when I  entered my room. All the toys couldn't seem to stop grinning in anticipation… OK, all except Mr Alpha Male Military Stikfas, with his muscly arms folded, looking down his macho sneering nose and tut, tut, tutting at…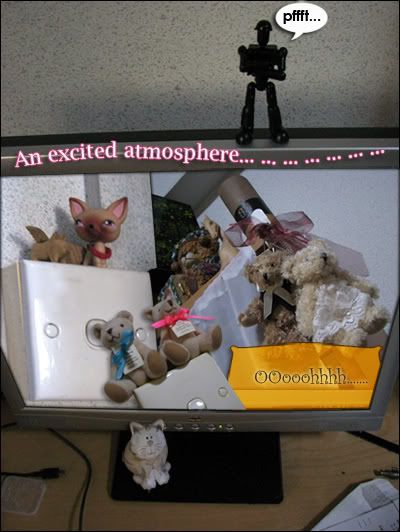 Dino and SPAT (short for Silly Pink Alien Thing) fighting??!!! over… OMG! Is that my new Hello Kitty Tote Bag that I have been waiting for, for ever so long???
"Hey, hey," I shouted over the ruckus.
And like magic, all the plush toys became still and lifeless again, like plush toys ought to be… And it was amazing that I didn't even marvel at their unexpected animation (did those toys just come to life?). Maybe I was just to fatigued to notice the impossible has happened (or maybe those toys cast a spell on me??), all I did was tear those plush toys from the bag and sort of went into a trance with the bag in my hands…
It was a while before my head cleared again, and I realised I was sitting on my bed and what a mess the bed was! There was a big grey UPS plastic bag turned inside-out, presumably where my HKO prize should be packed safely within. This bag is emptied, all the original contents strewn all over the bed.
Sigh, I thought, my mother probably couldn't contain her excitement and opened the package before I came home. Oh well… I gathered everything together again. There was…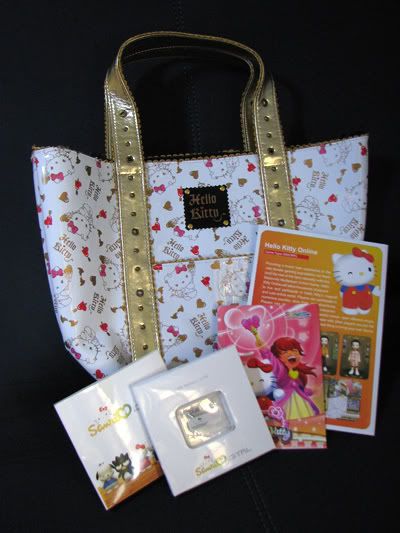 whooppie!!! The bag, the USB memory stick, a postcard, a SanrioTown brochure and a congratulatory letter signed by kaylee (not in the picture, but thank you very much kaylee!).
Here's the front of the Hello Kitty tote bag (430 x 270 x 170 mm). It's shiny because of the reflective white vinyl surface, and the gold straps.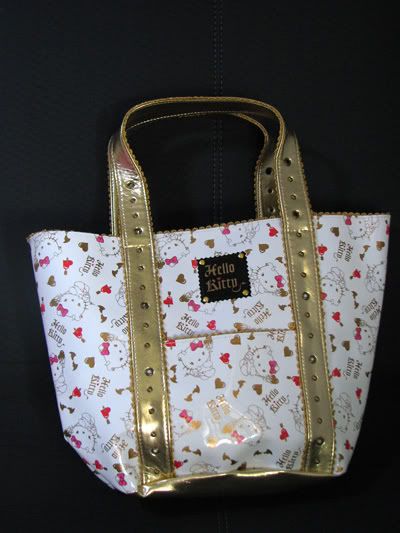 Here's the Hello Kitty Angel and Devil tag on the bag. (There's only one tag. This picture shows two because I edited the image to show both the front and back of the tag at the same time.) Apparently the bag is only available in Japan.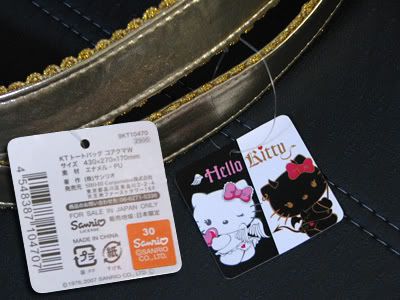 Here's a sample of the printed pattern on the white vinyl. I googled but couldn't find any english webpage with information about this particular bag. Interestingly, what I did find was that the Angel and Devil series items seem to come in pairs with an Angel and a Devil version of the same item. The Angel version will be in white, while the Devil version will be in black. You can see examples on Preciousocha's blog here. Mine seems more like a hybrid?? because it is in white but shows the devil version of the kitty…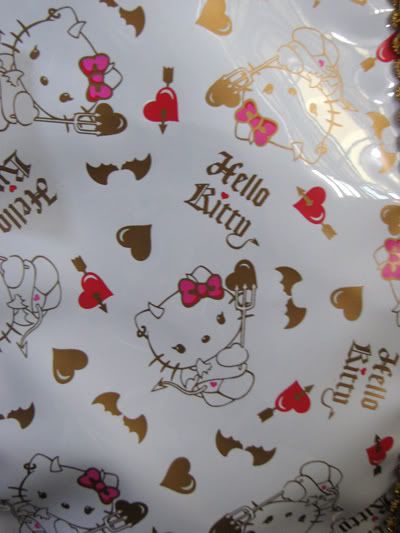 The detailing - metal studs on the straps, gold trim along the edges of the bag, exterior pocket and straps - gives it a nice finished look.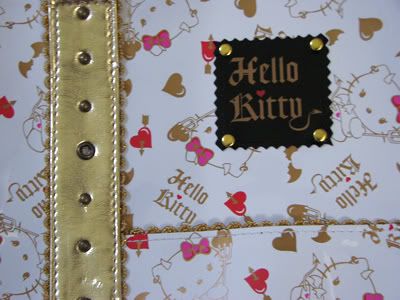 The interior is lined with a smooth, shiny black material. There is one pocket inside, no zip.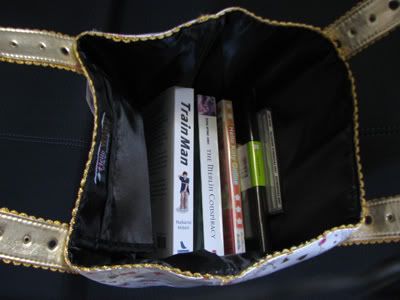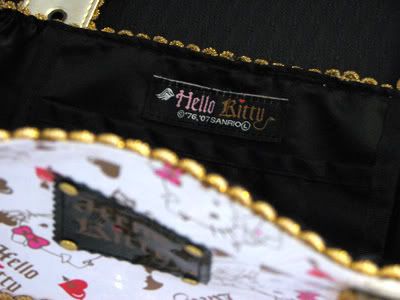 This is what the tote bag looks like from the back. Don't you love this cheeky version of the otherwise saccharine Hello Kitty? I'm glad the bag came in white and gold too.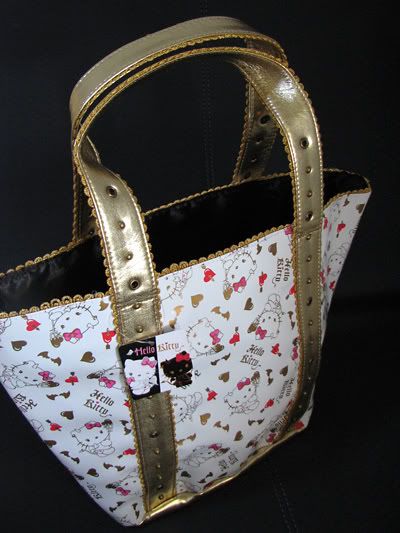 Next, the 1GB limited edition Hello Kitty USB memory stick. This memory stick is really tiny! I think it's approximately 2.5 x 1.0 x 0.3 cm  (I don't really have a ruler handy to measure it :P). I hope I don't accidentally lose it like the journalist who thinks he threw out the Mac Airbook (he was supposed to test and review it I think) in the trash. Haha.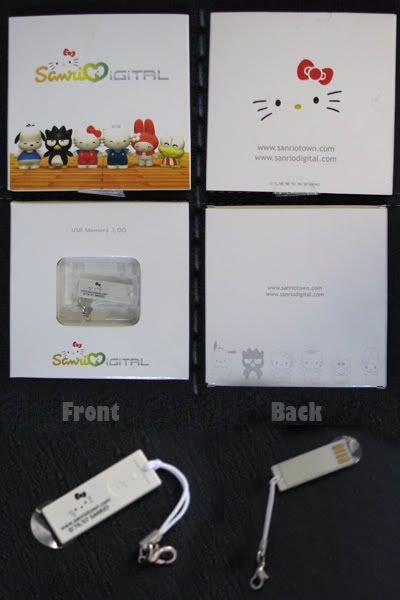 /edit 31 Aug - This is how small this USB drive is… I found this picture here
/end edit
Also a Hello Kitty Online postcard…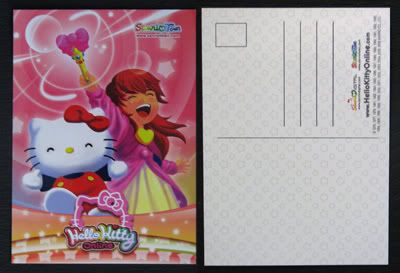 There's also a SanrioTown brochure. I found the Hello Kitty Online section of the brochure particularly interesting.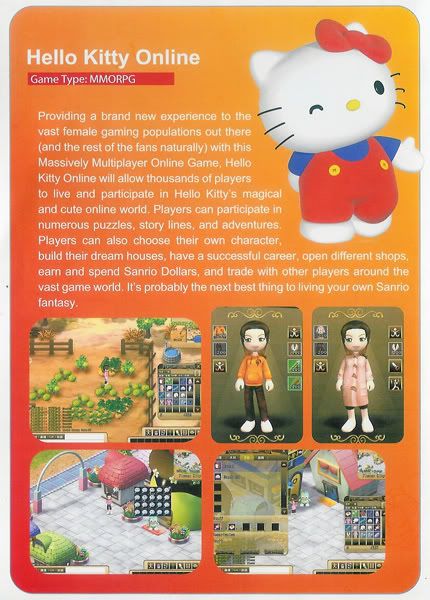 Have you noticed it yet?
1) The screenshots show a brown NOT pink interface for the different panels
2) The interface layout seems to have changed, notice the toolbar to the lower right corner of the screen?
3) The inventory panel has addition buttons including trash (I think I don't remember that many buttons the last time)
4) There seems to be emoticons that show your mood
Considering that this is a published brochure, I am inclined to think that this view may be close to the eventual finished product. But of course I may be wrong :P Who knows?
Related posts
★ Look who won the contest
★  《HKO預告片創作大賽》冠軍得主-Ripplecloud﹗
★ HKO trailer contest winners
★ 13th entry - HKO trailer UP! plus others that I like
★ Blogroll and HKO contest videos

Search this blog for more posts tagged "HKO trailer", "Hello Kitty items"