Alright before I start on my tragic tale, I just want to say check out hkotest149's farm! (ya all of us beta testers sound like lab rats or something). Love the images. So far I've only done the unimaginative on my farm - lined the perimeter of the farmland with young strawberry plants, that's all. :P
**

**
Right so why did I lose my guild and my sheep? :(
Because something happened when I was away and when I logged into the game, I discovered that I no longer belong to a guild. At first, I thought I was kicked out of the guild :P but then I discovered my scorpion and my sheep are gone, and all the quests I did 2 days ago were not in the list of completed quests! Yes those of you who are beta testers already know, it was a rollback. :(
Goodbye PortPack, Jamz, Tanya, etc from Kawaii guild… Sayonara! I tried whispering PortPack but she was not online :S Sadz…
What to do? Redo all those quests, that's all one can do right?
So I went forth questing angrily…
starfish, crabs, scorpions…
whack!!! Whack!!!whack!!! Whack!!!whack!!!
OK, so I was not as mad as the fiery creature above as I pretend to be. :P It's all part and parcel of testing a game that is not ready to be shared with a larger group of people yet. So relax…
The GMs for the night were GM - RoAN and GM - Yama, who introduced themselves saying to tell them if anyone has any problems or are stuck somewhere and they will come to the rescue, and that reminded me of GM - Dom, haha!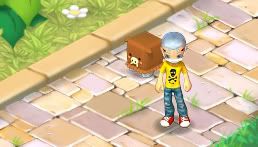 GM - RoAN happened to ask me how my day was. I'm not too sure whether he regretted asking because, of course I started whining about how all my stuff, guild and quests are gone. "Gone! GM, they're GONE!!! :_( "
OK, so I didn't really scream at him in caps, I apologise for the theatrics on this blog. :P
It was pretty quiet in Florapolis, with not many players around. This gave GM - RoAN the spare time to ask if anyone wanted to play mini-games and I volunteered. I was awfully bored with whacking tiny creatures that move by then.
If you have not tried out the mini games function in HKO, let me tell you the prize for the mini game winner must be worth an awful lot because the mini game is password-protected and placed under high security. :P Heh…
Anyway we didn't have the opportunity to start a game because all of a sudden there was a whole lot of people who needed the tender loving care of GM - RoAN. GM - RoAN asked me to wait so I did. GM - RoAN was really nice to everyone and trying his best to help.
It continued to be really busy for RoAN, so I started checking out other players' blogs and guess what? One of the blogs belonged to hkotest082 who left a comment for me on my previous entry! I mean like, how coincidental is that??! :D
Of course, I had to leave a comment to tell hkotest082 about this strange coincidence! It was all too surreal! :D No high security password and addition sums can stop me!
In the end GM - RoAN was too busy to play the mini game so I went off on my own to catch up on my quests again.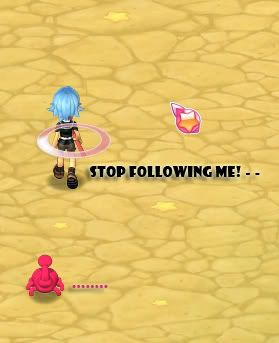 But somehow or other I wasn't given the pet quest no matter how many times I visited the NPC, although I got it the first time round before the rollback. Maybe the NPC didn't like me :( but GM - RoAN said it could also be a bug. He offered to give me a sheep if the quest is really not working for me but what I really want is a caterpillar :P
So I went hunting for a new pet instead and ended up with 4 scorpions. No caterpillar :( And I didn't even like scorpions that much! :P
Does anyone know how I can get a caterpillar?? Perhaps I'm only lovable to scorpions. :P

Tagged guild, mini game, HKO GM, ripplecloud, hello kitty online, HKO