May 11th, 2009
by ripplecloud•云云 :D
How time flies, this blog is 1 year old. Omedeto~

Two posts ago, ripplecloud received a Kitty Hat from the Mad Hatter. And that hat caused a lot of trouble and she was chased everywhere for it. Since then, ripplecloud worked hard so that she could get a new hat - the moose hat!
"The Moose Hat has horns so if anyone chases me, I will just poke them with the horns, muahahahahaha!" That was ripplecloud's logic, which of course may not go down well with the GMs who preached non-violence :P
ripplecloud was ecstatic about her new hat and showed it off to anyone who would listen to her like Sugar_chan
… and even to those who didn't.
After much ado about nothing about the moose hat, ripplecloud got hungry. So she bit off Kiui's gingerbread headgear and chewed on it vigorously.
Kiui was not very pleased of course and stomped off. :P
Just then the_otakutopian and Yin came by.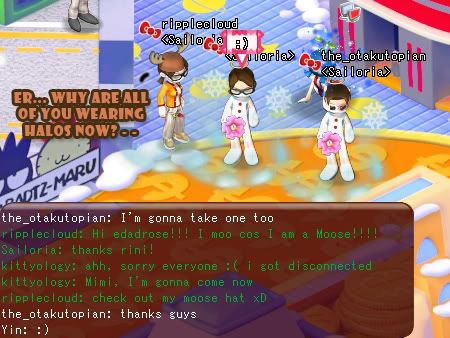 They were wearing halos and so was Cinnayum D:
Why?!! Why was nobody wearing the moose hat just when ripplecloud got hers???? *moody and grumpy*
But ripplecloud did not feel moody for long as she soon was distracted by the conversation in the guild chat. The guild was talking about making a constitution.
Well, the most important of the Sailoria Constitution was of course #6!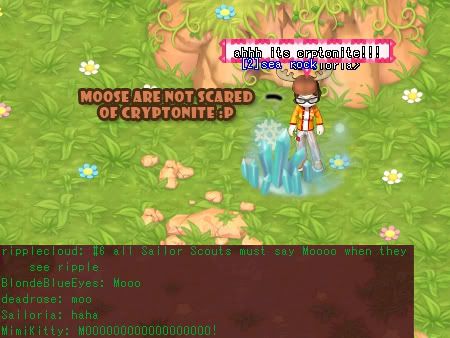 For that, ripplecloud didn't really mind being the last moose standing on HKO. :P
And remember, Moose go MOOOOOOOO!~

Search this blog for more posts tagged "hko fashion" "HKO guild"
Related posts
- 48th entry – Meeting the white rabbit on HKO
- Christmas Reunion!