So, since it is Valentine's Day… Which in my post before this, I completely forgot! I decided that I would show everyone everything that I got for my wonderful boyfriend:
Firt, I got him this computer mouse that I got from where I work: Things Remembered!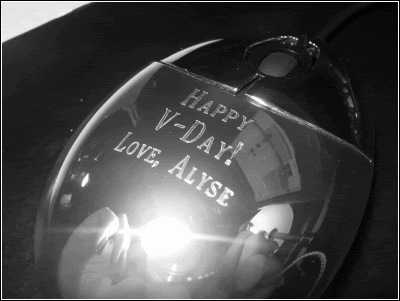 I engraved it for him! It's perfect because he really loves computers and he's always doing all these geeky little computer-related things! But the mouse is too small for gaming, so we did the cool thing and taped it to the monitor…
Then I baked him these home-made peanut butter cookies: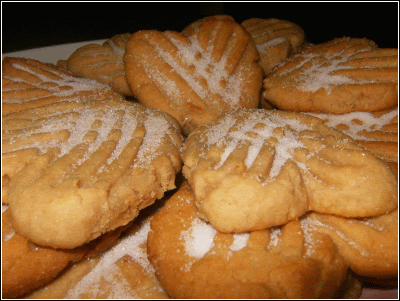 They were so much fun to make! Even though shaping them like that, without a cookie cutter, was very difficult! It was completely worth all the work, and he loved them!
The last, and best, thing that I got for him was this partly-filled scrap book:
This page is from Disney World. He took me there for my birthday! It's only partly-filled because we're still going to fill it with things we do! It's one of the best gifts I've ever given because I even wrote him some very sappy entries.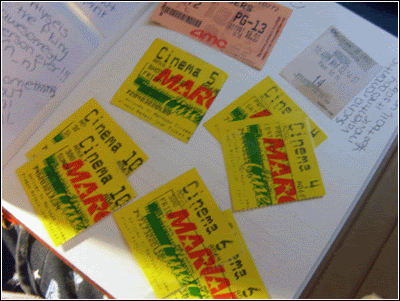 And this is only one page of the movies we've seen together. I've saved up every movie ticket since we've started dating a year and two months ago. So there are quite a few pages like this in the book!
I can't wait to start filling up the rest of the book! I think our next page will be Valentine's Day, 2008!
Oh yeah, and what he got me: See, he's not so good at the whole lovey-dovey thing, and he always buys me video games for Valentine's Day. So he bought me Drawn To Life. It's a video game where you get to draw your character and other objects in the world. It's actually pretty fun and I admit that I did ask for it for Valentine's Day. And since he had to work today, he said that next time we go out, he's buying me late-Valentine's-Day flowers. It's not like he can pick them up after work or anything, he works until midnight. /sadface.
I hope everyone else had a great Valentine's Day! And Happy Valentine's Day to you all!