Saturday, August 22nd, 2009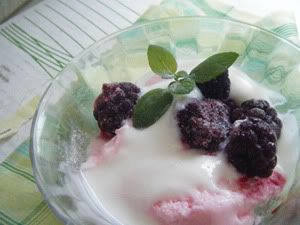 The word "Mousse" might scare you if you don't consider yourself a cooking genious, but fear not coz this is the easiest recipe you'll ever find on the internet. (If not, i'll give you a kiss :D
So, if you need a quick, light dessert just keep reading. This is one result of my frecuent kitchen experiments.
Ingredients:
1 pack of FLAVORED gelatin (whichever flavor you want, only make sure is the type you need to prepare with milk)
1/2 cup natural yogurth
1 1/2 Cup milk
1/2  Cream cheese bar
Prepare the gelatin as the package says  (if you'd like it to be more light flavored use more milk  or add less gelatin powder without exaggerating) don't bring it to boil. Add the yogurth and cream cheese and mix well until completely blended. Bring the mixture to the liquidizer or blender (if you have one) and let it mix for about one minute untill you see foam rising on the surface. (the more foam the better)
 Pour in cups and refrigerate. That's it.