Wednesday, July 28th, 2010
Calm, composed and collected—Lieutenant Riza Hawkeye is the eye-catching personal adjutant and bodyguard of Colonel Roy Mustang. Hawkeye appears in the Full Metal Alchemist manga/animated series as an attractive woman in her late twenties, sporting shoulder-length blond hair and amber eyes. Hot Hawkeye is a sharpshooter, capable of shooting any target with deadly precision. She specializes in firearms, particularly but not limited to sniper rifles, bolt-action rifles, pistols, and even double handguns at once.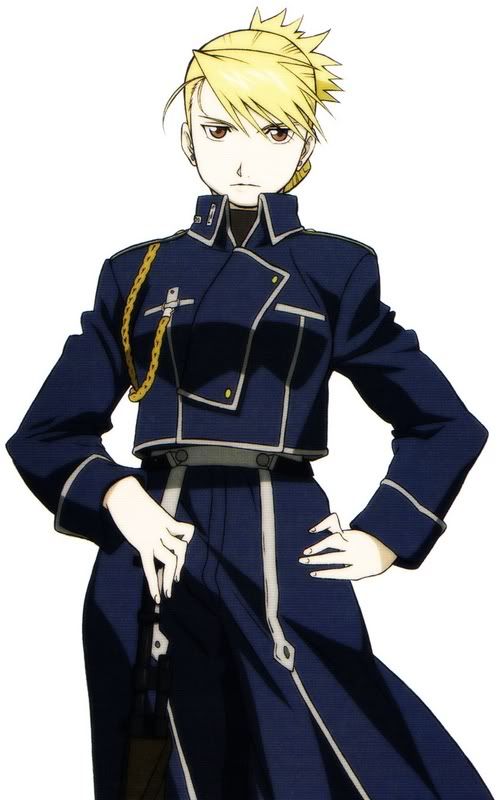 Lt. Hawkeye is the most trusted subordinate of Colonel Roy Mustang. She carries out administrative and secretarial tasks with great efficiency, rarely relaxing on job and keeping her colleagues on track with her disciplinarian attitude. While she might be cold and a little too authoritarian at times, Lt. Hawkeye shows her warmer side with her dog, Black Hayate. It's very common to see her embracing Black Hayate and talking sweetly to him in private.
Riza Hawkeye does not express herself excessively through words, preferring to reveal her thoughts through subtle smiles and sharp glares. Hawkeye is the most popular female in the Full Metal Alchemist series, winning the third place for the favorite characters in a recent fan poll, with Edward Elric earning the first place and Colonel Roy Mustang earning the second.
Lieutenant Riza Hawkeye is one of the most accomplished and disciplined member of Amestrian State Military. She is hot and cool, at the same time, and in equal measure!
(Source: http://hobbychaos.blogspot.com/2009/05/fullmetal-alchemist-cosplay.html )