It's no secret that we needed a lot of snow during the Christmas reunion. I thought the snowmen were hilarious and secretly desired to plant them all over my farm. However, I'm not a terribly dedicated farmer so I only planted three.  I collected bit by bit and my guildmate, Astroasis, would bring me her leftovers as well. I went to thank her and to my horror discovered this!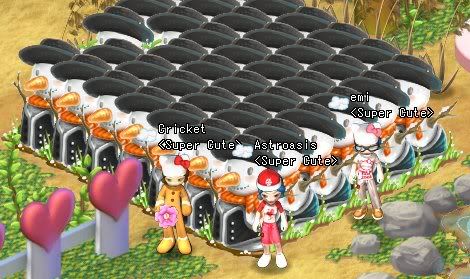 She had raised a snowman army and by the looks of it she was recruiting!!!* Emi RUN! I had to get out of there quickly before the snowmen got me too! I raced to Alesana_Kitty's farm.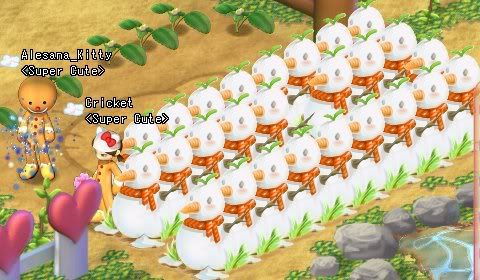 As I got closer I could hear chanting. ::you will join you will join:: I became dizzy and lost track of time. When I woke up I had joined Alesana's snowman army. She was preparing an attack on Astro's farm. Knowing we were outnumbered, I sneaked away when no one was looking.
Once back I looked at my 3 snowmen and knew there was no way I could defend myself. Sometimes desperate situations call for desperate measures. I had to raise my own army and fast….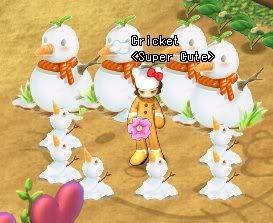 "Mwahahahahaha….oh. Come on guys. Carl, this is serious!"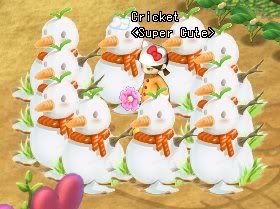 ::ahem:: "Mwahahahaha! My army will crush you!"
Unfortunately my army wasn't very intimidating. Astro visited while I was afk and played amongst them. Perhaps I wasn't clear on the definition of "crush them" during training.
*And by raised an army I really mean she selflessly continued to harvest snow once she was done with the quest and gave it to me. Astroasis is the greatest! ^__^