Saturday, May 30th, 2009
This outfit captures four essential wardrobe must haves actually: a well-cut blazer, a lived-in tee, skinny pants (it doesn't have to be leather, can be just plain leggings too) and flats…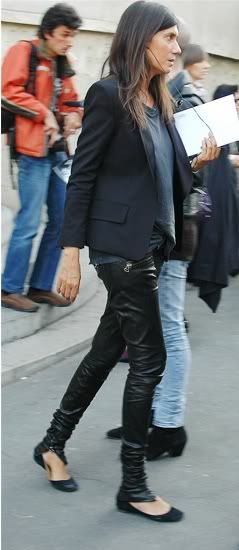 What's the lesson here? Well, for one, it's not easy to limit must haves to 5 pieces! Haha! That and if you have a well-edited wardrobe, it's so easy to look good! Just pile on whatever you have in your closet and you'll look great in a flash.
Think of it this way. Everything I mentioned in this post and the last couple ones can all be mixed and matched and worn together with aplomb. Pair the ballet flats with dhoti pants and a leather jacket, wear the blazer with wide leg jeans and heels, match the worn tee with cargo pants, the possibilities are endless, all you need are great fitting, classic pieces that make you feel good and look good!
Oh, and don't forget to invest in quality accessories! A great leather bag, a luxurious cashmere scarf, and fabulous shoes will go a long, long, way!