26
Aug
by kuromi_lauren:hellokitty.com
Hola people! Kirby here! The author has this "Avenger Girl" fever, so she's leaving me in charge of today's post. Here's the topic for today's post……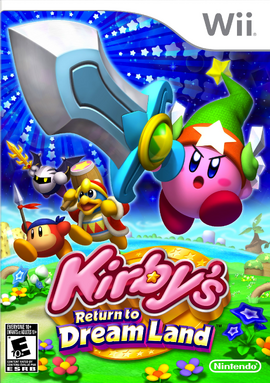 Yes…I know it's about me, but this is one of my games coming out this fall that Lauren is most excited about. This will come out Oct. 24, which is less than two months from now. Now, from the my Wiki site, here's the story (Directly from the site):
King Dedede and Waddle Dee are chasing Kirby, who is holding a large piece of cake resembling his Strawberry Shortcake from Kirby: Squeak Squad. They run past Meta Knight, who is lounging and reading a book under the sun by a large piece of rock on a grassy knoll. Suddenly, the sky flashes brightly and a five-pointed star-shaped portal reminiscent of Dark Nebula opens in the sky, and a crystalline, galleon-shaped, futuristic airship with an unfamiliar insignia pops out, trailing smoke and spilling pieces of gears everywhere. Moments after, the ship falls apart - first two banks of oars, then wings at its aft, then its engines and a piece of its bow, and finally its top mast. What's left of the hull crashes nearby, and the four heroes run off to investigate (Kirby abandons his dropped cake).
They reach the crash site and find the ship's hull mostly intact. Then its door opens. Kirby peers intently inside.
The heroes wander into the ship's shiny interior and find themselves right inside the ship's cockpit, but it's in shambles after the crash. A lone alien lies on its side, unconscious in front of a large screen flashing a warning sign.
The alien wakes up and immediately runs to the control panel, and a look of despair comes over him. The screen shows all 120 pieces of gears missing, and all five parts of the ship's hull had been scattered to the five corners of Pop Star.
Kirby offers to help, and the rest join in. The four heroes run off the ship while the alien stays behind on the ship to do repairs. What caused the ship to crash in the first place?
Okay, so the story does not involve saving Dreamland (At least, not yet), but what makes it awsome, according to Lauren, is this……
It's one of those Super Abilities that are stronger than normal abilities. This one is Ultra Sword and it's the most well-known so far. There is more, but you need to play it to find out. Another feature is the new Abilities, which are Leaf, Whip, and Water. Water makes its game debut and was featured in my anime. So, make sure you can keep an eye on it.
And, in other related matters, my DS game Kirby's Mass Attack is going to be released September 19th, but Lauren is still debating on whether she's getting it too or not.
Before I leave, I would like to tell you about how I am doing.
Back in Sanriotown, I am readapting back to my normal life after becoming Gamma Scout Kirby for so long. I returned to eating and sleeping and I don't have anymore anger bursts. Yes. It's good to be back to normal for once. I just feel bad for Fantastic and Lauren for not having fun with their Scout abilities. But hey. Fantastic returned back to crime fighting and the author, Lauren, well….She's now writing a comic book called "The Avenger Girls", whatever that is.
So, that's about it for now.
See you later!
P.S: Did you notice that the Wii game got the E10+ rating instead of E? Maybe it's more violent on the Wii than with the DS or something. O_O