Did you know that Hello Kitty was an Ambassador for UNICEF's "Go Girls!" Campaign?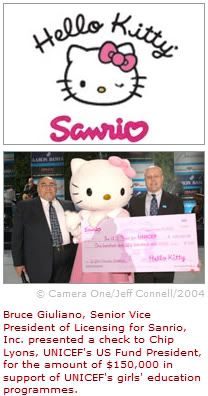 When Hello Kitty celebrated her 30th Anniversary in 2004, Sanrio donated over $150,000 to UNICEF girls' education programmes to embark on an advocacy programme, educating fans about gender-based discrimination in developing-world schooling. There was said to be some 10 million more girls than boys who are not attending school world-wide.
As quoted from UNICEF.org:
Joining forces with Target Stores, Sanrio gathered acclaimed designers to create special one-of-a-kind Hello Kitty items and sold the items at an online auction that began in September 2004, culminating in a star-studded gala in Los Angeles in November 2004. Proceeds from the auction benefited UNICEF's 'Go Girls!' campaign and Target House.
This was actually the third time Hello Kitty and UNICEF have joined forces; the first was with the United States in 1984 and then with Japan in 1994. Because of her work on behalf of the world's children, Hello Kitty received the exclusive title as "UNICEF Special Friend of Children."
Hello Kitty truly is a special friend to all girls from all parts of the globe.