About クー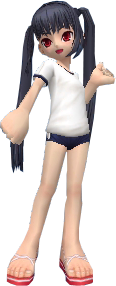 パンヤの世界で名の知れ渡った海賊船「ルナーテューム」の船 長、クー。
少し頑固だけど、キュートで愛嬌たっぷりの可愛い女の子です。
パンヤ島バルトス地域で一番強い海賊の一人娘で、世界で一番好きなのはパパ、その次は大砲!
いつも片手で大砲を引っ張る、怪力の持ち主です。
幼いけど、豊富な人生経験でパワーとコントロールの高さには定評アリ!
ただ、カーブのような細かいテクニックは苦手。
今後の成長に期待です!
Kooh is the young captain of the pirate ship Lunar Tomb. Her father disappeared long ago and she has searched for him in the seas ever since.
She has sailed across the 7 seas and has seen the many wonders the world has to offer. She has traced the island of Pangya as the last destination her Father was seen in, and has anchored her ship off the island in hopes of finding out the fate of her father.
Her skills as a pirate have proved themselves to be versatile as Kooh has turned out to be extremely skilled in the game of Pangya.