I'm not one to complain a lot (my emphasis on "a lot" because I do complain

), but really, what is it about these new players who keep begging in tournaments to allow them to have the trophy?
I mean, for an average player like myself, being able to get a trophy from a tournament takes quite an effort to achieve…

And all the noobs can think of is to ask for it, simply because they have less trophies than me…

I mean, lol, dude, keep practicing, why don't you?
What's the use of a trophy that you didn't earn on your own?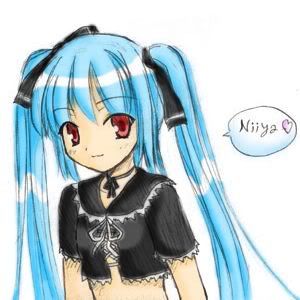 I guess for some of the really good players, receiving a trophy has lost its value…

I say this mainly because at more than one occasion, a professional Pangya player simply asked if I wanted to have a trophy when I could only achieve 4th place. Sometimes, I would decline the offer, but at one time, I tested it and said yes… And just like that, the pro player made mistakes on purpose to let me have one of the trophies…

Well, of course I thanked that pro player, but nyaa… It didn't feel as good as when I win a trophy all on my own…
It makes me wonder how the other noob players feel? To me, it feels a tad bit insulting…

It's an indirect method of letting other players know that you can't achieve to reach top marks unless other people "allow" you to do so…
Thanks but no thanks… I'd rather recieve a trophy when I actually deserve it… Perhaps that is selfishness to some people, but that is my pride as a Kooh Player.

But I guess for now, I'll let you all enjoy this fanart from
Pangya Thailand…
Current Mood:

Irritated
Listening to: You're Under Arrest - Thank You Love
Eating: Cheese Bread
Drinking: Hot water