Current Mood:

Mischievious
Listening to: JerryC - Cannon
Eating: Rice topping c/o my mom
Drinking: White Coffee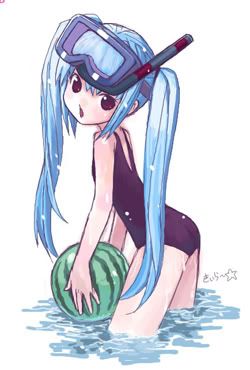 To me, summer would mean a lot of fun in the sun… No more time to play in the house all day, but occassional all-nighters are a must.

I'm looking forward to the summer.
I need to get out of the house. Mom's been scolding me that I've been playing too much video games.
She's right though, but that doesn't stop me from making her happy by playing outside once in a while.

I found this in the
Pangya Thailand Forums. I think it's kind of traditional for the Japanese to have watermelon in the beach… I hear they cool it in the ocean waters first, then literally break it with a stick.

Haha~ I'd want to try that! I mean, since when are you ever allowed to beat up a fruit?

I certainly hope everyone gets a nice summer.