July 6th, 2009
by kitty35_fan:hellokitty.com
Good thing I bought an iPhone instead of the Sony Ericsson I told my mom I wanted.  When I found out Hello Kitty HAS her own iPhone application, I immediately browsed the web! Check out these cool features of Hello Kitty for your iPhone!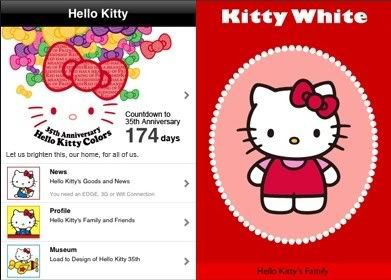 iHello Kitty 35th anniversary: a FREE app that has Hello Kitty birthday countdown clock, Hello Kitty news, and much more!
features:
Hello Kitty 35th Anniversary Content Introduction
A Hello Kitty 35th Anniversary countdown clock
The 35th birthday commemorative movie "Hello Kitty Colors"
Profiles of Hello Kitty and her family & friends
Hello Kitty News
A Hello Kitty design museum
iHello Kitty Camera, an app that lets you decorate your photos with
Hello Kitty themes and take photos with Kitty's images!
Features:
Automatic face-finding (can find multiple faces at once)
Auto-design frame image composition
Compatibility Check mode for couples
15 different Hello Kitty logos
15 different headpieces
15 different accessories
15 different decorations
12 different particles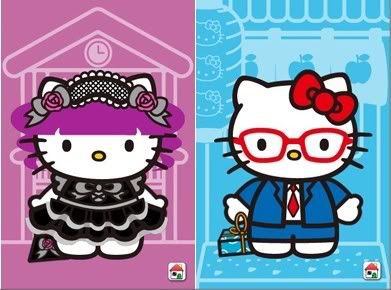 iHello Kitty Tokyo: lets you customize and dress up your iPod/iPhone Touch with Hello Kitty themes. Users can customize Kitty with a variety of Tokyo street and cultural fashions and background designs. They can also change her hair, clothes, accessories, location, and much more!
I got these information here!