September 13th, 2009
by kitty35_fan:hellokitty.com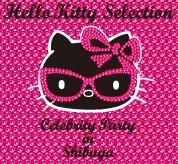 Wow, I haven't blogged in a while.  I was too busy googling and buying Hello Kitty 35th anniversary items that's why! I've also been trying to keep track of their events and daydream a lot that's why I haven't been blogging lately.  I'm not a very good writer and is not good with the things I wanted to say.  But this time, I wanted to share with everyone an event that's gonna happen on September 27! In Shibuya, Japan, Sanrio's going to launch an event for Hello Kitty Fans like us! I don't really know what will happen but I'm so excited since I haven't been to a Sanrio Event before.  But since my grades in school have been great, my dad told me he'd take me to Shibuya to see the event! Isn't that great?!
:D
Here's what it said in the official Hello Kitty 35th anniversary site:
'Hello Kitty Selection' is a brand new extravaganza featuring new and limited designs, top brand-collaborations and many other fabulous events, all taking place is the international trend hotspot that is Shibuya! The Hello Kitty Glass Design series makes its gorgeous debut! Venue: Tokyu Department Store, Toyoko Store From: September 16th (Wed.) 〜 September 27th (Sun.) 2009
More events here.