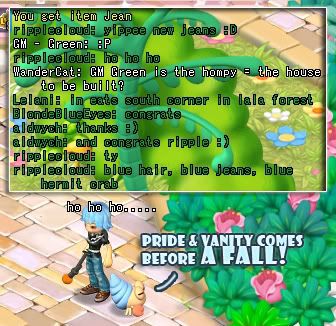 Dear God (and Hello Kitty),
BlondeBlueEyes said a house is a big deal in Hello Kitty Online close beta, but I took what she said lightly. I repent.
I repent for not starting on my house, even though BBE asked me five times yesterday about my house. I repent.
I repent for being so vain and wasting time to work on my new jeans than to start on my house. I soooo repent….
Now I've got no house … …. :_( And there's not enough time to build one because like everyone else life comes with other more serious responsibilities that take up the time.
…. *speechless* …
If you're wondering what I'm whining and whinging about , well I got to get a house to qualify for this >> rewards for closed beta testers.
…
Alright, spirits up everyone!!!
It's not the end of the world if we don't get some freebies for open beta. (… ok, so it's close). And we absolutely have the rights to try for it no matter how slim the hope.
Right! *Thumps chest vigorously* Let's get working now.
Thanks everyone for visiting this blog so often! Please allow me the time to attempt to qualify for the rewards before CB ends in *sob* 3 (sorry wrong info here, yay 2 more days! :P) 5 more days!!!! :S Oh, the horror… :O
And if any kind soul has finished their house, perhaps you can lend a helping hand and some bulging muscles? Just a teeny weeny bit of bulging muscle will do. Every little wee bit counts!
And everyone else building a house - plutochan, BBE, Kaioh, Lelani - gambatte-ne~, aja aja fighting! (k, that's my foreign vocabulary gleaned from watching idol dramas
)
p/s: Apologies, I may not have the time to update for the next 3 days. Manual labour is calling me… like a siren… it's… irresistable… …. Wish me luck at least… … *secretly wishing pets can become some gaurdian monsters, the type that can transform into giant robots to aid in the housebuilding… wish wish… as ripplecloud gets sucked into the virtual world of frantic housebuilding…*