July 19th, 2009
by flyingmochi:hellokitty.com
 So, I took some pictures of the earrings I bought yesterday. Here they are:
Giraffes are cool :D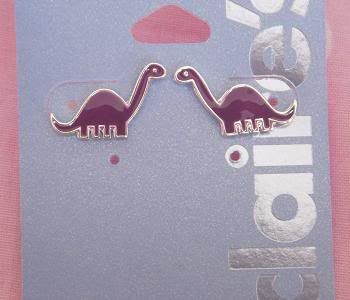 Purple dinosaurs are also cool, like Barney. I'm wearing these right now :]
AND THESE ARE MY FAVORITE! Gosh darn it! Unicorns are so bloody wicked. lol. ronald weasley.
 MMMKAY. So, I slept in a little today. Didn't wake up until 10 :] I was supposed to go out and buy a prepaid credit card for online uses with my mom and dad, but they left without me. I was hoping to buy a reloadable one, but because they totally left without me, they went and bought a totally sucky non reloadable one for $50. I really appreciate my dad for buying it, because he usually doesn't do these things for me without me begging profusely, but I'm not sure if I can sell things through Paypal.
 I sent a message to Paypal to see if I sold something, the customer would be able to send money to my credit card. I haven't gotten a reply yet, but I'm patiently waiting by writing this.
  I have three online shops in totaly. The first being a Myspace shop with my friend, Linda. You can go check it out here:
http://www.myspace.com/csfunkadelic
It's called CS Funkadelic. CS Funkadelic doesn't have all the things that I am selling on my other online shops mostly because I don't think Linda would like to sell them. SO, if you want to see all of what I'm selling, you can go to these two places:
http://www.soompi.com/forums/index.php?showtopic=302330&st=0
and
http://forum.asiajam.com/garage-sale/14379-flight-mochi.html
 These shops on Soompi and Asia Jam are called the Flight of the Mochi.. :D So yup, GO SHOPPING!
 And I just want to mention that my brother's birthday was yesterday., July 18. I believe he turned 21 :D SO, HAPPY BIRTHDAY JIM! He has joined the Air Force and he's training in Texas right now.  I would never admit it to anyone, but I kind of miss him. I miss the way he used to drive me everywhere and when he downloads games for me on my computer xD
 WHELP, that's about it for today.
Have fun in Texas, Jim.
Flyingmochi
P.S His name is actually James. We just call him Jim :] Or Jimmy or Jimbo :D
P.P.S. LOL, I bet he's gonna be buff when he gets back.