November 20th, 2008
by dianaslittlehelper:hellokitty.com
I never thought I'd be as exhausted as I was (2 days ago) after 6 straight days of work.. and now, I am enjoying, yet, terribly bored, thought I have taken 3 days off from work. Yeah, I mean it's great to rest and recharge one's batteries but I can't believe that I am spending it entirely home, doing chores and practically watching videos at youtube. Is this really what becomes of people once they become a part of the work force?
 Anyway, tomorrow, we will having visitors- my aunt, myra's aunt and 3 other new mates who just arrived here in Norway. So we cleaned up a bit and scrubbed all surfaces.. oh oh.. Btw, we got a washing machine! (yeah, it's something I am gonna be jubilant about!) Yahoo! One of my nice, Polish colleague, Urzula, gave it to me because she bought a new one and needs to dispose the old one. I am so thankful because it's like new (used less than a year though). My roommate and I were planning to buy a new one next month (after we get our salaries) but I guess we have our lucky shoes on! The cheapest washing machine here is 3000 NKr (that is 24,000Php) and we got one for free! We had been handwashing our clothes for the last 2 weeks since we moved in here and it's a great relief! (Think about ruining our delicate hands and saving us from back and shoulder pains).. Thanks again Urzula!!
And finally, before I end my blog, my roommate, Myra, came out of the bathroom.. and it's definitely BAD HAIR DAY for her! she used Rejoice (shampoo from the Philippines) rather than the DAX shampoo we use at work, and we love so much that we decided to bring home a bottle (hehehe we are sooo evil). Her hair is long and with beautiful locks of curl but when I saw her,no doubt that…. hmmm oh well… Here's what she looked like..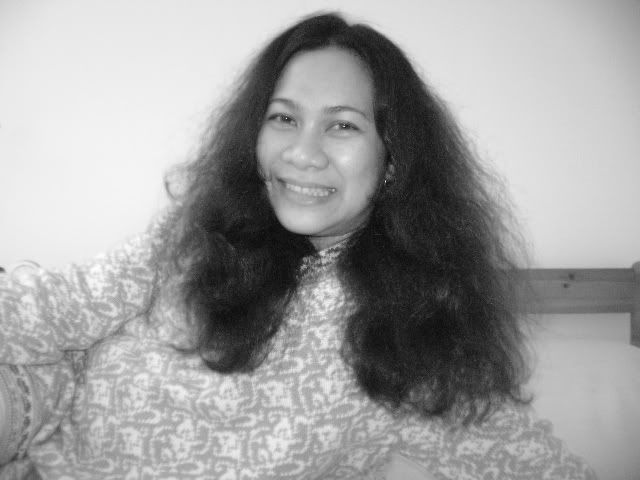 I was bit weirded out because the first thing she said to me, " My hair's dead!". Technically, the external hair is dead but when I looked at her, huuwwaaww! hehehehe Anyway, she just cursed the shampoo and said she will, from now on, shampoo her hair only with Norwegian shampoo! hahaha