June 4th, 2008
by dianaslittlehelper:hellokitty.com
Hi there fellow shopaholics!
When a friend of mine brought me to the Tyler shop in Glorietta , looking for our Graduation outfits years back, it instantly occurred to me that I am soon gonna be a constant, devoted Tyler window shopper simply because this brand carries one of a kind, elegant and timeless pieces of clothing…Plus the sales assistant was very polite and accommodating, not to mention that she didn't follow us around the store, suspecting us like we were those cheap shot thieves who just got bored stealing from department stores.. (ok, that was too specific. :p )
Anyway, when i woke up last Friday, I was thrilled to see my package beside my pillows and I literally ripped it then slowly retrieved my precious top/coat from the pitiful wreck of plastic and paper…. hehehe Anyway, nothing brings me more joy than getting a great big bargain! This top is new w/ tag still on, never worn (stored in the closet) and I won it for only 650php! hehehe
here's my coat/top:
Another coat i bought 2 weeks ago, from this very nice ebay seller who, even the item has still 5 days, ended the bidding early for me. How? It's simply by asking! Anyway, i thought this glam coat was too thin and just so so given that i paid only 300php for this. Turned out that this was really nice, the fabric thick enough and the quality is superb! I can compare the quality to that you can buy at zara or mango. Anyway, this has no brand however I got this new (you can smell it, though).
here's the pic: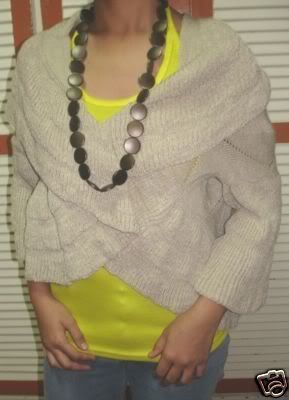 Oh, i just love online shopping!