Before I start, it would be proper introducing myself to the community first. So here it goes…
Hi. I am Rosanne, but my close friends call me Osang.
I just turned 25 last february 21 and I'm from the country with many beautiful, breath-taking beaches, Philippines!
I have so many interests because I keep an open door for new things to try on. No, I am not fickle- minded for your information but i certainly have this insatiable hunger for adventure. Getting out of your comfort zone sometimes is not bad, but I guess it's normal to experience a little anxiety for stepping beyond one's routine. However, that's when you really start living.. for me. Boredom is fatal. Monotony kills.
Here's a list on the things that I love as of february 28, 2008:
- i love to eat good food! - Italian, American, Asian dishes! but i wanna try more European and Latin.
- i love dogs! - I have a pet named Diana. She is a 3 1/2 year-old mini pinscher. She was given to me by mom. hahahaha Here's her pic:
According to my analysis, she gave Diana as diversion so that I won't get depressed whenever I remember that something is missing in my life during that time. hahahaha I love my mom for that! My Diana already gave birth 2 times. Her children are Mocha, Choco and William. They look and move/behave like her- energetic, sweet, loyal and annoying! hahaha
- I love shopping!! It's one activity that I will never get tired doing many times 24/7! So my latest addiction is online shopping … Eating up almost the entire duration when I'm surfing the net. My most fave is Ebay. It's the greatest online thrift shop of all time!
- I love going to different places! Of course, if I have enough money, I'd really do a lot of traveling. Like what I say to my BF, the more distant, the better!
- Since the influence of Global warming and Pollution has gotten so much of my attention, I am going organic! Recently, I have purchases of organic soaps, shampoos, facial creams, conditioners, toners, etc. to show my support for the cause of saving mother earth. They have Biodegradable by-products and will not add up to the water pollution. Another thing to be proud of is I started staying away from Red meat. It's not easy, but I am slowly cutting of my consumption of any animal flesh. After conquering the red meat department, my next step is the poultry department! Let's see if I'm up to that! hahahahaha
- I love the beach but I don't know how to swim! My activities there includes rubbing my feet on the sand, watching the waves and the sunset, feeling the ocean breeze/wind against my face, sitting on the shore and attempting to build sand castles but ends up looking like a caveman's mud house.. hahahahaha. Here's a shot taken in Ilocos with my friends!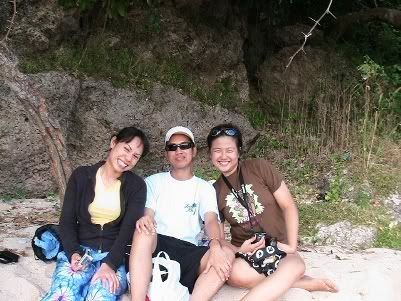 Also, I collect sands and shells from all the beaches I've visited. Nothing beats the sense of tranquility and calm whenever I'm there.
– There are lots of things that i love but these are some of my mainstay fave things. You'll get to know more them as i progress with this blog. Better keep you hanging! hahahaa