As promised I'm posting what i got from the event, and amazingly i actually got something– i mean things!

(woot plural?!). Anyways i took a pic of my inventory: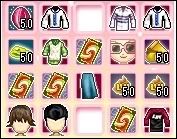 Im too lazy to name all the items but yea~ i got alot of sheep pet cards

and.. boys clothing….
sigh, and im not a big fan of the skirt~ oh well, i really like the girls hair!! im debating on weather or not i should wear it.. knowing i would lose my orange newbie hair forever if i do. ahh decisions decisions.