'Be nice, guys!' is a event that started on October 24, 10pm EST and will end on October 26 at 10pm EST.
Required items:
3 newbie wands
3 white tees
3 traveler pants
10 traveler shoes <—you can make these yourself!!
Reward:
Leopard Glasses!!
You can find out more about this event HERE.

Getting the items were pretty hard for me, the newbies really wanted to keep their stuff, one even said i was trying to get them naked lol, oh well~ but then i got some tips by some random person (cant remember your name, sorry

) anyways, his tip was to trade higher level items for theirs, that method worked once for me 

~~ i think its a really good idea if you can make 'Bee stingers (wand)' and trade that for their newbie wand because theres a good chance that the newbie might be level 3, unfortunately i didn't have the 'bee singers book' (and no one remembers where they got it from.. maybe im missing a quest?!) i saw some people using this method and pretty soon alot of the newbies i saw had bee stingers so im guessing it worked really well for them..
i managed to get all the required items before the event started and then when it started i had trouble finding the GM (i was running circles around the wooden area in the harbor when he was just outside it lol) 
… eventually i found him.. and a BIG line!!! so i went to the back and waited~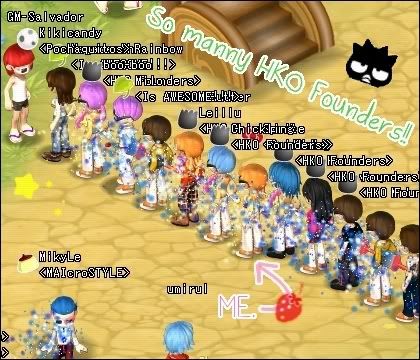 Me wearing the leopard glasses!!