Hihi, just thought I'd share all the Hello Kitty stuff that I have. I don't consider myself a collector, but I just can't resist buying some of these when I come across them in stores.

I know my photography isn't great, and with a lot of these I was getting a lot of weird double-image stuff happening, which I haven't seen happen with my camera before. I tried to photoshop some of these to get the sharpness and colors corrected, but I know that even with that, the quality of these isn't very good.

Okayokay, now here we go!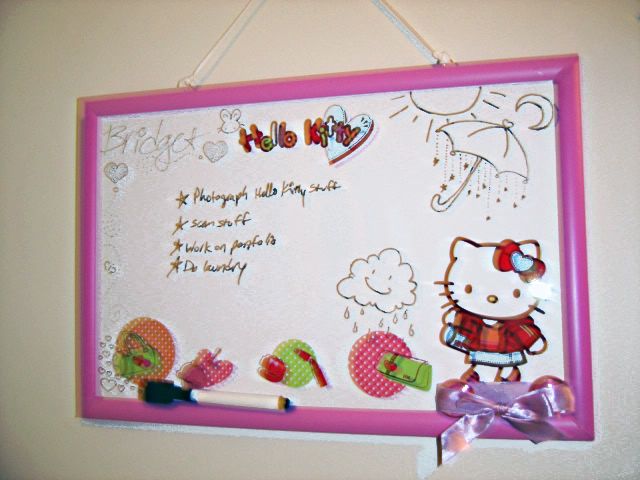 This is a magnetic dry-erase board that governs my very existance.
The words written upon it are taken as law, to which I must abide.
Without this to guide me, my life would be total chaos!! @_@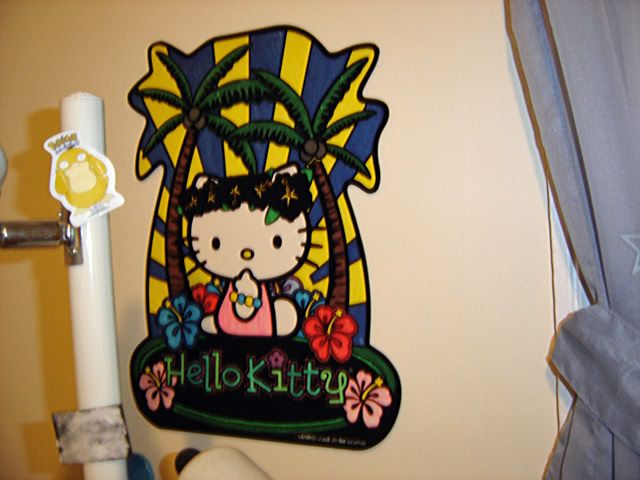 A poster-sort-of-thing, one of the kinds made with black felt.
I colored it myself!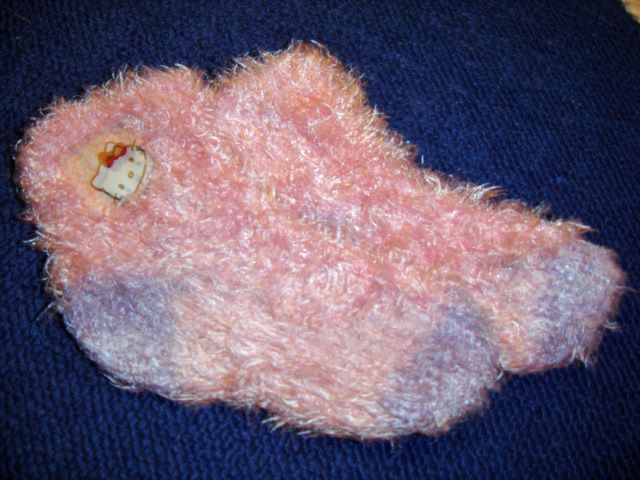 FUZZY SOCKS!!


Two t-shirts and a very warm hoodie.
Yes, I wear these.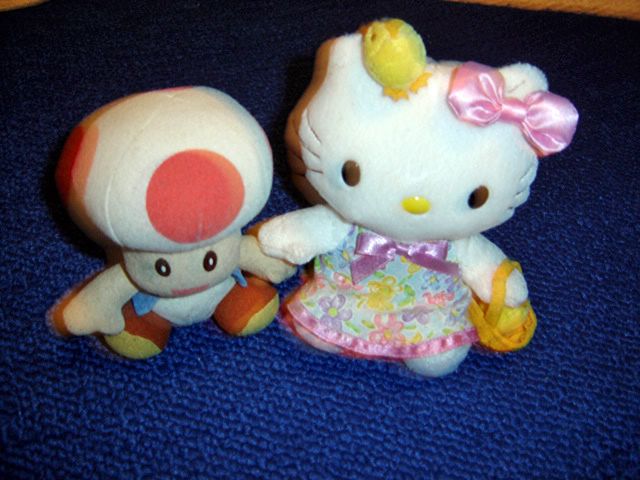 A plushie that I got for Easter one year.
Toad, wait your turn! You'll get your own photo shoot some day!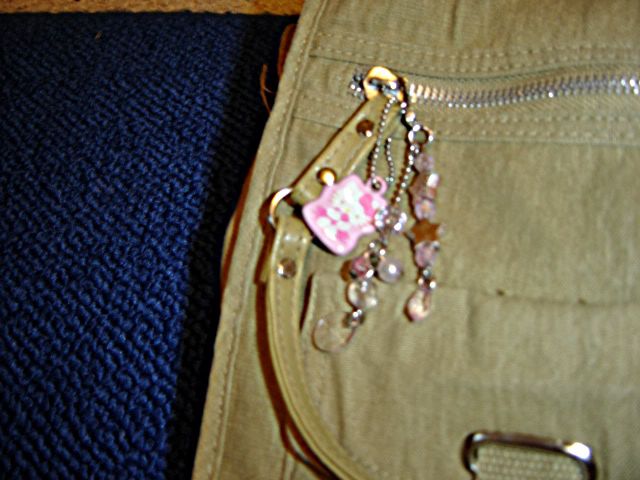 A tiny keychain that lives out its days upon my faithful backpack.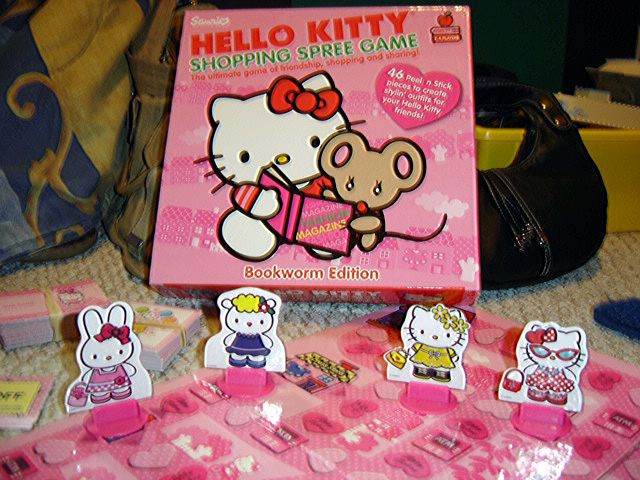 Omg yeahyeah let's go shopping!!
This game is fun because there are little sticker pieces of all the clothes
so you can dress up the little game piece characters.


Journals that I used to write in…
A stuffed keychain, my wallet (I LOVE IT SO MUCH!) and my day planner.
Like the dry-erase board, that planner is my guide through the perils of everyday life.
I probably would have failed college without it.
Oh, and there are stickers inside! I put them on stuff like my DS.
OH SWEET MOTHER OF - Bridget, how do you live with yourself in these conditions?! >_
This is my desk, which as you can see is not used for writing or drawing on
or anything that involves sitting at it.
It is more used like a display shelf for ALL THE COOLEST STUFF IN THE WORLD.
Like so.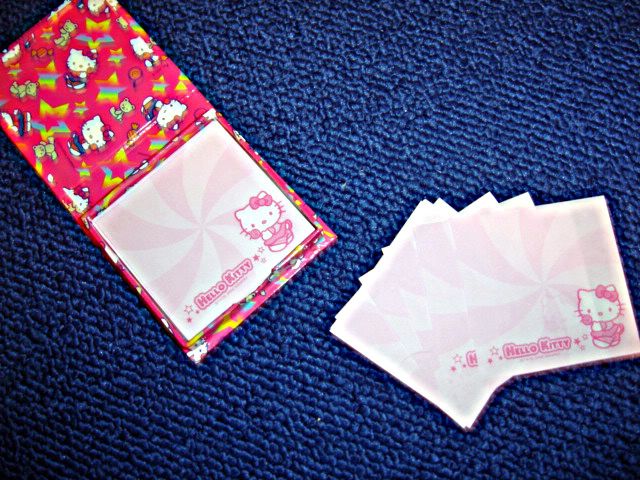 This is one item that came with the stationery set you can see on the desk…
These little squares of paper serve the same purpose as the dry-erase board and planner…
I jot notes concerning stuff for me to do later, then put them in my pocket.
They have served me well in remembering what books I want to get from the library,
what "important documents" must be downloaded for the day (e.g. game roms)
and other all-important life decisions.
Hello Kitty seems to be very important in helping me to remember to do stuff.
THINGS THAT CAN OPEN.
A keychain with Hello Kitty and Mimmy watering flowers inside,
a cheap plastic locket necklace, and a cheap plastic compact mirror.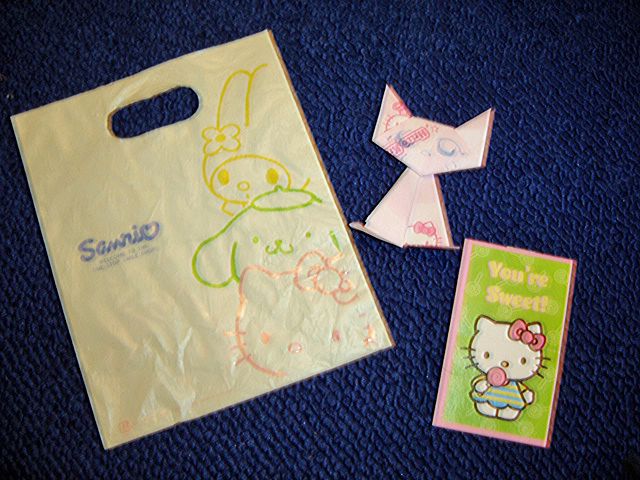 Miscellaneous stuff… There used to be a Sanrio store at a mall,
and after I bought stuff from there, the bag was just too cute to throw away.
It's usually hung over the doorknob of my closet.
Also: an origami cat made of those little note papers, and a cheap Valentine's Day card!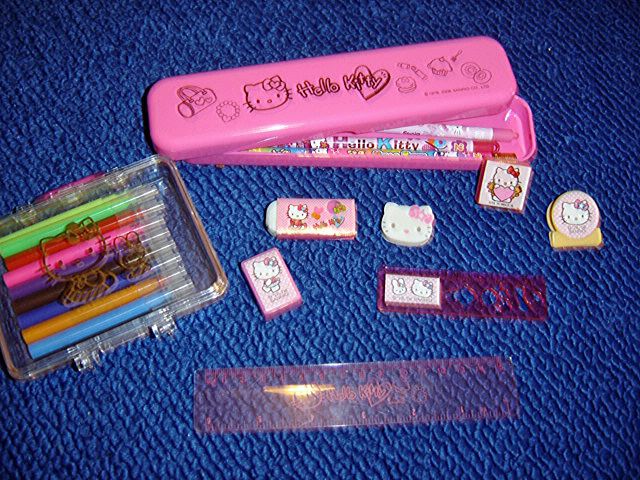 Stationery stuff. A pencil case, a plastic case with markers inside,
erasers, a pencil sharpener, two small rulers, a rubber stamp, and a paperclip-type thing.
Pencils!!

An artist can never have too many.
But I don't like using them a lot, because they are so cute
and I want them to last forever.
This is the prize I won from my entry in the Hello Kitty Online Trailer Contest
(I am #12 in the list of consolation prize winners~)!
I was so excited to win something!
It's… so tiny! o_o
Two postcards that came in the envelope along with the HKO contest prize~
They're so colorful and cute! I just love looking at them.

A smallish poster, also in the envelope with the prize…
It's taped to the wall in my bedroom right now.
The bright colors and flowers are soooo pretty.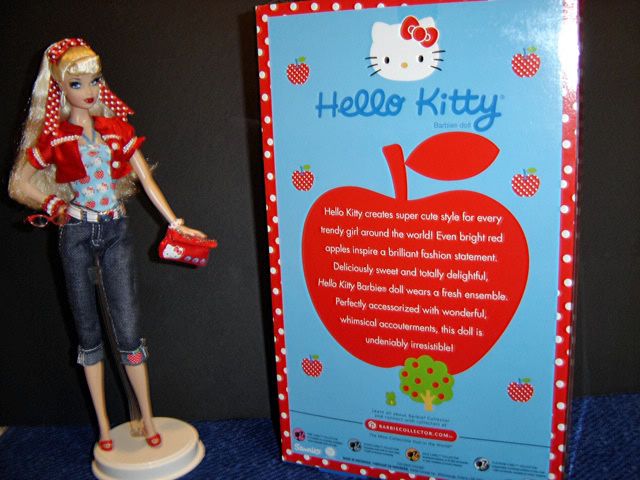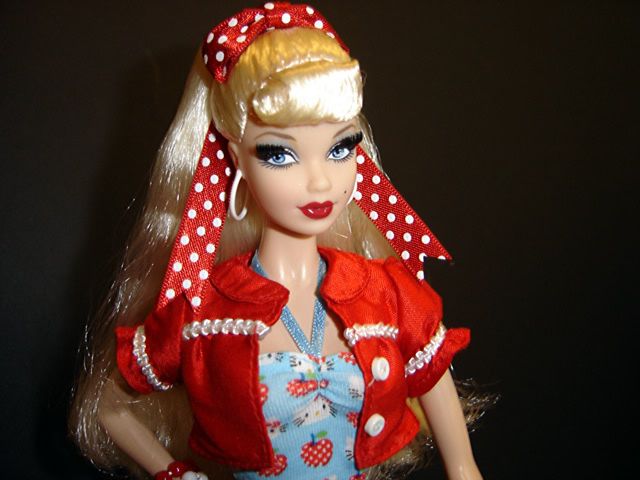 This is the present I got for my 20th birthday~
SO PRETTY. Check out those eyelashes!
There is also a My Melody doll who is my favorite Sanrio character
so I wish that that doll was at the store when I went there.
Maybe next year…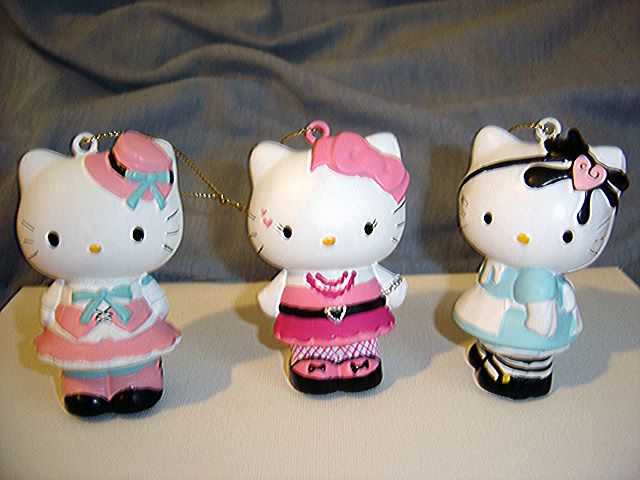 Santa knows me so well!  I love the little hat that the one on the left is wearing, but the middle one is my favorite!

  They're Christmas ornaments, but I'm keeping them displayed in my room all year!

 UWAAAHH!!  Now every month I get a different adorable Hello Kitty scene to look at and admire!

Woo!
I have the Hello Kitty Hello World CD!
Read my blog entry about it (and listen to my favorite tracks!)
right here!!