August 24th, 2010
by bunnywinx:mymelody.com
SO GUYS. Did you hear about the HKO Commercial Launch???
Yeah me neither.
LOL J/K!!!!! All the info is here, and all the goodies that come with that Premium Edition sound yummy. I had actually planned for today to be my mall excursion day over the weekend, having no idea that this boxed set was coming out.
When I went to GameStop, though, they didn't have it.

The guy there said that today might be the shipping date and stores might actually be getting it tomorrow. Well, I'll save that for a later shopping trip.
While I was at the mall, though, I discovered this KICKIN' new little shop that had opened up. It was called Pretty Pretty and had a whole wall covered in hair accessories, and quite a bit of a second wall, too. It didn't have the look of a large chain, and there doesn't appear to be a Web site for it, so my assumption is that it's just a tiny business. I nearly died when I saw KAWAII ACCESSORIES. There are zero stores in this area that sell Japanese-inspired jewelry and character accessories.
There was a sale on hair accessories for Buy-2-Get-1-Free, so naturally I picked up three items.
Suupaa kawaii bunnies!! O_O I have NEVER seen any items in this style in any store within 100 miles of where I live. I had to hold myself back from picking up just everything. There is a $10-off-your-next-purchase coupon on the receipt that I got, so I will DEFINITELY be stocking up on more kawaii-style things from this place.
My hair-wardrobe lacks yellow. So I fixed it.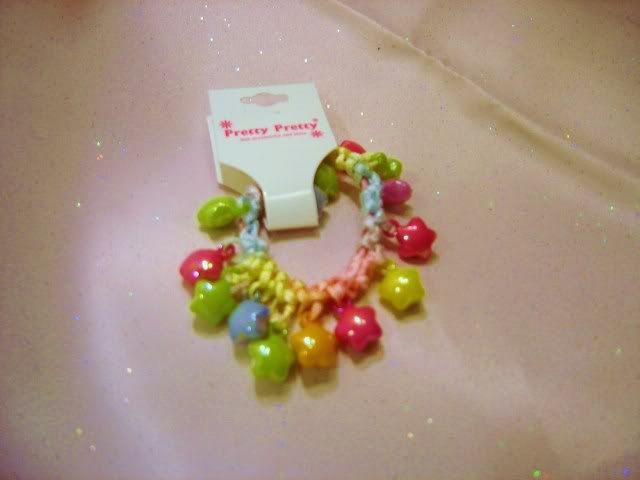 Seriously, who doesn't love colorful chunky star-shaped beads? This looks really similar to some ponytail holders that I already own, and I'm all about coordination! I would wear this as a bracelet to go with those solid-color stars in the link.
Haha, I got a little sidetracked… I feel like I had a Hello Kitty-ful day despite not being able to pick up the special edition game. Shopping excursions are most successful when you come home with warm fuzzy feelings of having treated yourself to things that make you happy. Okay 'bye now.