January 10th, 2010
by bunnywinx:mymelody.com
Luuuullllll guuuuuuuys I meant to post this aaaages ago. XDXDXD
Happy New Year and all that stuff.  My resolution is to pretty much scheme up a way to make money through my art. XD  I'm setting up a site to serve as a portfolio and opening shops where my designs can be printed on t-shirts and the like.  Probably also commissions through DeviantArt.
So anywho I thought I'd share the gifts the got for Christmas, too.
GIFT THE FIRST:
This was from my cousin, who drew my name in our family secret Santa ring~  IT'S LIKE SHE CAN READ MY MIND!!  That's quite a feat considering that she is three years old.  Remarkable that she's such a successful gift-giver without any help from her parents.
And the rest of my gifts were sent to me by my beau… yes, the same one who sent me this last year~
"Futari wa Purikyua!!"  Awesome figurines from an anime that I adore because it is magical and sparkly.  They are Cure Black and Cure White from the magical girl series, Pretty Cure.  Their poses are so cool!!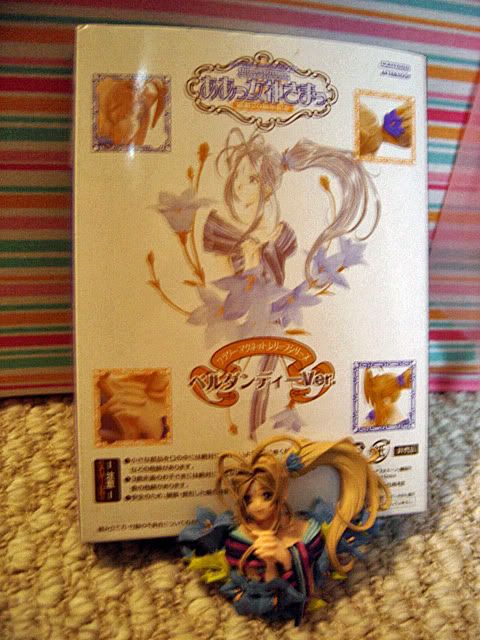 Oooooh so pretty. <3  Oh My Goddess is another favorite anime of mine from way back, and Kosuke Fujishima is one of my favorite artists ever.  So having something pretty like this is special. <3
I realized that it was a magnet so I stuck it on the first magnetic surface I could think of, which was my dry-erase board…
O_O
Now they all have a home on my bookshelf, rockin' with my other goofy toys.
Okay well that's all from me for now.  <3  I hope everyone had a splendifferiffic Christmas and New Year and lots of good stuff happens to everyone and stuff. <3