October 10th, 2008
by bunnywinx:mymelody.com
Just finished playing for the day, here's what I got for ya!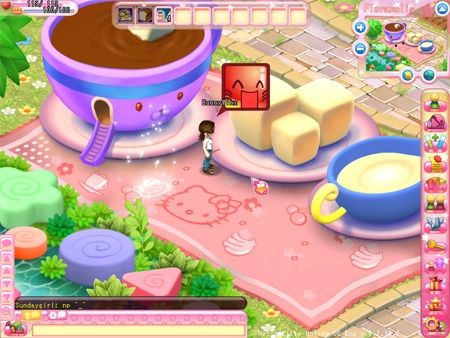 Eee!!  A house made of tea, and giant sugar cubes, and creeeeeeaaaammmm!!!!  Why, oh why, can this world not be real??


What??  We have a princess?!  This is the first time I've heard this…  Do I get to slay a dragon and rescue her?
This flower garden is sooooo pretty!

  I'm unsure what character this house belongs to… how do I get the keys for these places??
Chatting it up with Ripplecloud…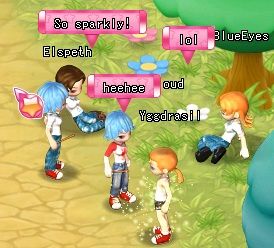 Back at the Harbor, Yggdrasil showed us some neat tricks!  Where can I get a sparkle-creating necklace like that?  And more importantly, is there a necklace that creates a flowery effect, too??
*Sniffsniff*  Smells so pretty~  I thought this area seemed very serene, so now I'm keeping it forever!  (Love the adorable penguin-hut, too.)  HKO has such fanciful plants.  This one is Dark Opal Basil, which sounds so cool and romantic to me~  Basil is an herb I like a lot in food, plus it is my very favorite boy name ever!

I thought it was a good idea…
On the eastern side of the Harbor, I found a trio of Deku Scrubs!
Now, I'm north of Florapolis, in the South Dream Woods, on a quest to gather materials needed to learn how to craft an axe.  Gathering those materials involves cutting down trees with… an axe.  Why did I need to buy an axe in order to complete the quest for crafting an axe?
At least now I know what all the fuss over Box Pigs is about.  They do have charm.
Adorableness alert again!!  Wee-ooh, wee-ooh, wee-oh!!
…What is this thing?!
Back in Florapolis now, and feeling like a queen~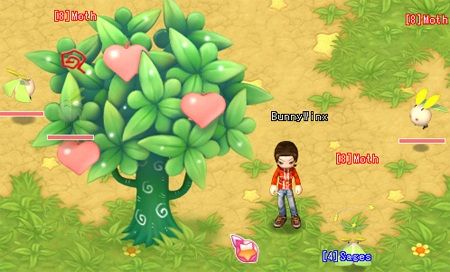 Love this tree!!  I found it on the way to London, which is southwest of Florapolis.  The monsters here are very strong and I had to run away fast!
   The moths are adorable, though… I think I found what monster I want to be my pet!!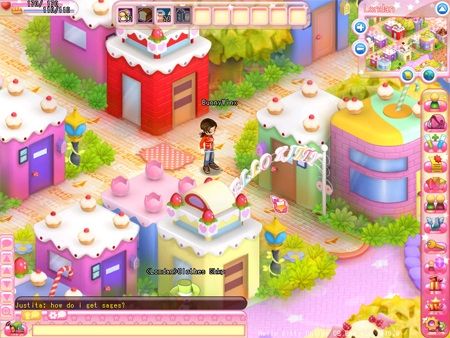 Successfuly braved the perils leading to London… It's a pretty place, but not much to do because much of the NPC dialogue and quests aren't in English yet!!
I chose this area in particular to take a screenshot of, because a building is blocking the H in the sign, so it says 'ELLO KITTY!!  Get it?  'Cause it's London?  Ha ha?  …Haahhh.