October 9th, 2008
by bunnywinx:mymelody.com
Ta-da!  The first post in my brand-new HKO Diary category!  HKO is finally here, oh joy!  I played it for a couple hours as soon as the doors opened, which was very late at night.
There were some grueling times right before the server opened up!  I and many others passed the time by mingling in Noliai's Hello Kitty Chat, which reached a record 10 visitors at the same time!
Some had more trouble than others making their way toward SanrioTown Harbor, so those that made it in grasped the hands of their left-behind comrades and dragged them along through the dimensional portal between Connecting Server Land and Sanrio Town.  …That's how Noliai got through, at least!
Here's my first batch of gathered HKO screenshots.  If they're too small to read, you can click on them to view the full-size image.
Hurrah!  My favorite Sanrio character.  Can't wait to actually find her in the game and not just as a tutorial guide…  Erm, no, Melo, I don't notice a button below you…

"Are you happy today?  If you're not, smiling surely helps!"  I just thought that line was pure awesome.

Myself, Aaron, and others are puzzled by this Hello Kitty doppleganger.
Dear Daniel warns us of the magidal doors that await us in our adventure.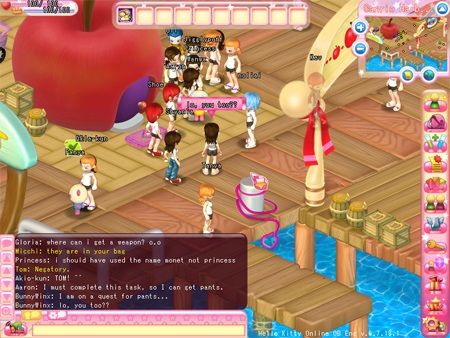 Finally made it to SanrioTown Harbor!  The time is now to quest for the pants of ultimate power.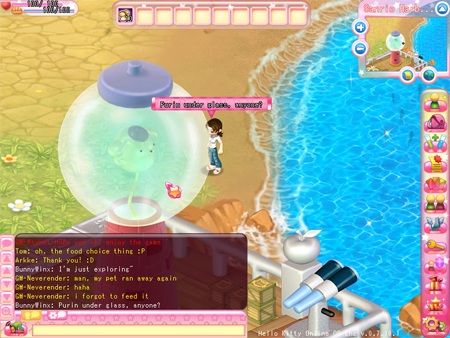 Exploring around the Harbor~
Hmm… the 450pixel width of this blog layout isn't very forgiving when it comes to resizing HKO screenies. I will have to come up with a more creative way to share these in future posts.
I'll spend more time playing today (I'm still learning the basics of gameplay, really…).  If anyone sees me (my username is just BunnyWinx), feel free to say hello!  I'll probably be hanging out in the My Melody server!