September 30th, 2008
by bunnywinx:mymelody.com
News of this game has been around for a year, and fans waited in anticipation all the while.  We've endured false release dates, which led to brutal delays, but now… now… Harvest Moon: Tree of Tranquility is finally available.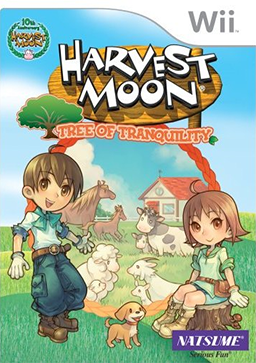 HM: ToT is the largest installment of the series yet.  First of all, the world in which your character resides (Waffle Island), is huge.  It would take much more than one in-day game to explore the entire island.
There are a ton of crops to grow, several in each season (previous titles have neglected crops that can grow in Winter).  When it comes to animals, there is even more variety.  Your coop houses both chickens and silkworms, and the barn houses not only cows, sheep, and your horse, but also goats and an osterich.  Osterich eggs sell for a pretty penny, but more intriguingly, once you obtain a saddle, you can also ride it.  Crazy?  Yes.  Fun?  Very yes.
There is much more customization in this game than there has been in previous games in the series.  Furniture for your home can be purchased (several different styles/motifs are available) and can be rotated and rearranged.  What's more, your character can buy new clothes for him/herself (if the image on the box cover weren't a hint, you can choose to play as either a male or female protagonist) and mix and match with different hats.
Building relationships with townsfolk is always a core element of Harvest Moon games.  HM:ToT boasts an unbelievable 50+ islanders to interact with and befriend.  Out of those, 16 are marriage candidates (8 for the female protagonist and 8 for the male) and most of them have rivals that you will need to compete with to win their heart.  Once you are married, your child can be either a boy or girl (you can choose which one you prefer if you don't want to leave it up to chance) and the spouse that you chose determines the child's appearance and personality.
There's so much content to this game, I haven't gotten anywhere close to covering it all.  For example, besides working on the farm and talking with townsfolk, there are other ways to spend your time - fishing, foraging, mining…
Oh, and did I mention that the Harvest Goddess is missing, and the Harvest Sprites need you to help them restore the Island's rainbows?
Here's a video of lots of gameplay~  (Hopefully after today, there will be lots more videos with the dialogue in English…)
I love the overall concept of this game so much, I'll be keeping a little diary of my character's progress!!  It will be hosted here in this very blog, so keep in touch~
Sources for more HM:ToT information (and all the pretty artwork!):
Ranch Story's Tree of Tranquility Info Pages