ATTENTION!!: My main blog is now BonBonBunny.com!
Please visit me there if you want to keep in touch with me!
Thanks bunches, everyone!
Hello, welcome to BunnyWinx's blog page!


  Thank you so much for visiting!
Please have a look around, and enjoy your stay!
Quick Links:
Please link to me with this button:
Name: Bridget
Age: 22
Birthday: August 16
Zodiac Signs: Leo, Dragon
Location: United States (East Coast)
Favorite Colors: Pink, white, red, brown, green, grey

For more info, follow the I'm BunnyWinx! link.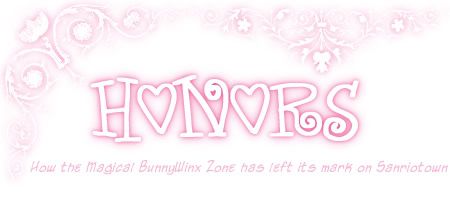 Hello Kitty Online Trailer Contest 

I am #12 in the list of consolation prize winners~!
View my entry here!

Blog of the Week 


Whoa! The Magical BunnyWinx Zone is Blog of the Week?!
This is what inspired me to add all the new content you see here now~

 Hello Kitty Online Founder's Beta


BunnyWinx is an HKO Founder!
Read my HKO Diary to follow along with my adventures !
Birthday Greetings for Hello Kitty

My art was published in SanrioTown's official blog!
Read my blog entry on the subject here!

AeriaGames Beta Tester


Yup, the next round of beta is here, and I'm a participant again.
Read the entry concerning my return here!

Blog of the Week 2010 


As a slightly early birthday surprise, The Magical BunnyWinx zone was featured as Blog of the Week for a second time!!
I've been a member of the SanrioTown community for two years now, posting my HKO adventures as it evolved through nearly every stage of its development.
For as long as SanrioTown continues to be fuzzy-wuzzy adorable and a wonderful community toward everyone,
I will continue to blog here. Cheers!

Most Recent Posts


Go straight to my latest entries.
(You can look at the calendar to the left to see when I last updated~)
Click here to read all of 2010's posts!
Click here to read all of 2009's posts!
Click here to read all of 2008's posts!
I'm BunnyWinx! 

Additional information about myself
(is updated randomly).

Hello Kitty Online Diary


The Adventures of BunnyWinx in the
magical game universe of HKO.

Art Every Day 


You can check my Deviantart profile for a full gallery,
but I'd like to share my work with the SanrioTown community as well.
So,  every day once in a while, I contribute one of my pictures to this category.
Internet Fun

Anything fun, cute, or interesting that I come across while surfing around.

Video Games


I'm a gamer and I love sharing the fun games that I find.
This is where I talk about my favorite games and characters,
as well as provide links to outside gaming sources.

Tree of Tranquility Diary


(Abandoned project - sorry everyone.)
The diary of Alyce, a girl who suddenly finds herself in the colorful
and whimsical Waffle Town.  All is not well here - the Harvest Goddess
has vanished and the rainbows have faded away.  Alyce will have to work
hard to unlock the island's mysteries and restore tranquility to the land.
Gallery of my Hello Kitty Stuff 

(Needs to be updated, will get on that soon.)
Photographs of all of the Sanrio merchandise that I own.