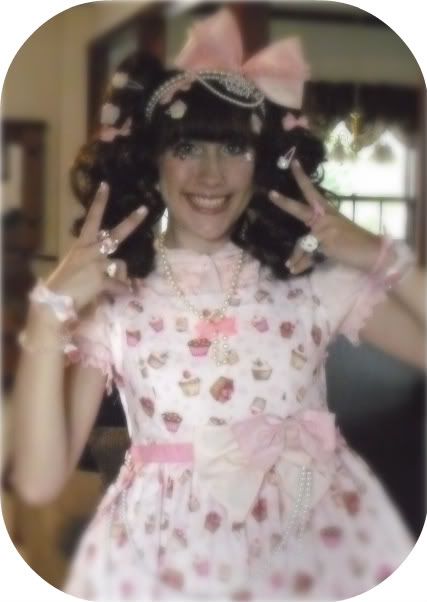 Name ♥ Elizabeth Rae
Age ♥ 18
Height ♥ 5'2
Brown hair and eyes
Mostly OTT sweet or casually sweet
Favorite Sanrio Characters ♥ Sugarbunnies and Little Twin Stars
Favorite Animal ♥ Unicorn
Favorite Colors ♥ Pink and baby Blue
Candy and Sweets fanatic ♥ Collector of Plushies ♥ Sticker hoarder
I also love music. I play the piano, guitar, and glockenspiel. I have a huge collection of all things Hello Kitty. I'm obsessed with cute. My robo-dwarf-hamster's name is Albus Dumbledore and he lives in a pink habitat. I drink tea from my favorite English china on a regular basis. I'm really good at baking cupcakes; specifically chocolate or strawberry ones. Sewing is one of my favorite things; there's nothing like putting on a cute outfit and being able to tell people you made it.
Contrary to my otherwise girly lifestyle, I also love Star Wars, Harry Potter, Lord of the Rings, and Super Smash Brothers Melee. I have never visited Japan, but I hope to some day with my best friend Melissa. My family life consists of my mother, step-father, sister, and two step-sisters; we are all very close and still do things together like eat lunch and watch movies on Sunday. Dietarily, I don't eat red meat – only chicken. Fruits are like candy to me, only better – not only are they sweet, but they're refreshing. For the majority of my life, I have been a Christian. For the past few years, I've been radically head over heels for Jesus; I would trade my relationship with Him for nothing else. C: