August 14th, 2011
by beffles:hellokitty.com
It's been so long since I've last written! Sorryyy~ ;n;
I've been very busy, however! But now I have more free time to blog because school is about to go back.
I've only gone out in lolita a few times since the Valentines meetup.
But in May I went to an anime con nearish to my house called Animazement.
This was my fourth year going, and due to some mishaps, I accidentally missed my graduation to go to this convention. XD
Oh well~
But this is what I wore the first day. C: I'm with my friend Krista. ♥
Milky-chan OP, matching headbow and socks, and dot cardigan are Angelic Pretty.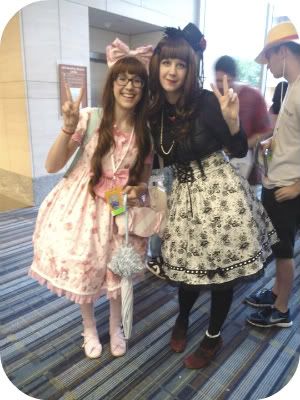 The first day I also ran into my friends Lany and Shannon that day, which was nice because I didn't know they were going to be there.
And my friend Tony had an art table because he's an awesome artist~
He sold a lot. C:
The second day was the lolita social panel, so of course I wore Angelic Pretty again.

We played "pin the bow on the lolita". I wasn't very good. ;n;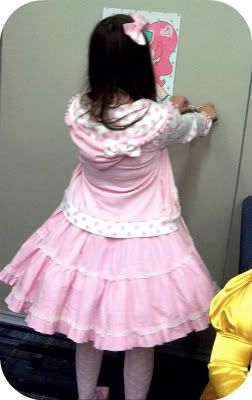 After we all played games together, we went outside to take pictures with everybody~
This one is my favorite. ♥
From left to right: Miffy, Beff, Krista, and Amara.
Miffy's shoes are so tall!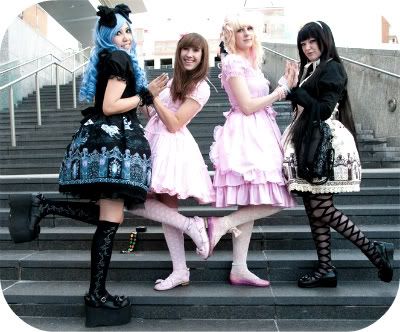 Here's a picture of the whole group. The sun was right in our eyes, so everyone's kind of squinty~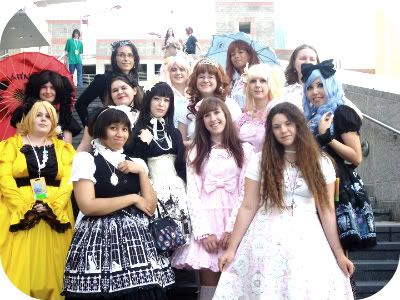 The last day, I didn't do much - mostly just shopping - so I wore shorts and my new unicorn shirt.

That's Will on the left and Nguyen (Krista's boyfriend) with me. ♥


They're so silly~
All in all, my fourth year at Animazement was a lot of fun. C:
I bought a whole bunch of manga to add to my collection, as well as that unicorn shirt for me, a cute squid shirt for my friend Melissa, and a deer necklace to match Milky-chan. :3
There will be a new posts soon about Loli Day and Bon Odori. ♥
Stay tuned!
Beffles ♥