The birthday event is going to probably become a real drag unless some other elements are brought in.
Here's the current deal. You have a special map filled with monsters and one type of plant. Smack the monsters and they drop dream fragments- which are used to buy hat and wands from the party master; gifts- which are turned in for donation points (the gifts come mainly from the PartyPig); and, rarely, the Red Gems that are used to "upgrade" your wand. The plants drop leaves mainly although I've gotten fireworks a couple of times and a caterpillar once (which was listed as a "junk" item. I'm not sure if it really is, so I'm keeping it anyway.)
In a nice, repetitive cycle all of the monsters will become unhappy at once. When most of them are smacked down you get the "good job" message. A little while later, the mega-pig gets unhappy and it's time to whack him. Repeat every 5 minutes or so.
The gifts can either be turned in as is or wrapped to get more points. You can pick leaves from the snowcharm plants to make a natural wrapping paper or you can buy the (expensive) wrapping paper from a merchant.
The hats from the party master are purely decorative. The wands are the special "sparklers" which you need to hit the event monsters. Fireworks are just pretty sparkles.
There's a couple of items for free in the IM: an enhanced wand and some snowflake fireworks. There's a couple of other low cost items (including some one use shoes that make you able to sneak past a monster for 20 seconds). All of those can be found under the "functional items" section. I'm not sure if it's a part of the event, but there's also some hand accessories on sale in the IM for cash.
As promised, here's some more birthday event pictures.
Star Sparkler
This is the best of the wands. It's going to take a lot of crystals to get… but it's the Red Gems that are the real kicker. The Blue Gems it mentions are most likely going to show up in the IM….
Ultimate Hat
This is the final hat. It looks like it might be cute, but I haven't seen one in game yet. Believe it or not, that 2k fragments may not be that hard to get. I got 250 in a few hours of half paying attention. You can get a regular hat in orange, yellow or pink really quickly.
Birthday Snowcharms
These are the special plants. They're kinda odd. Unlike other plants they only have two harvests (instead of 5) but the pop back much quicker. I guess that's to try and prevent fights over resources.
Ultimate Fireworks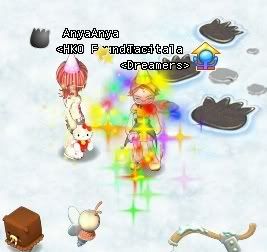 Pretty… they don't do anything else that I've found.
Uninvited Troublemakers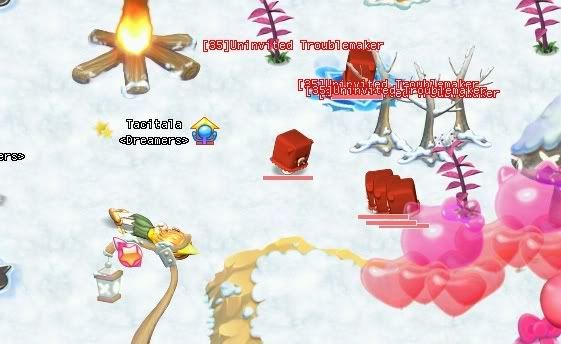 Beware the Death Piggies. No, seriously. I'm level 31and have the best armor under my pretty dress and I got 1 hit KO'd. Unless you've payed the 100 LP to get a pair of sneakers, avoid the red pigs at all costs.
Mega PartyPig
Lets face it. He's the event's pinata. He's cute and moves around some but never too close to the death piggies.
"Pet" monsters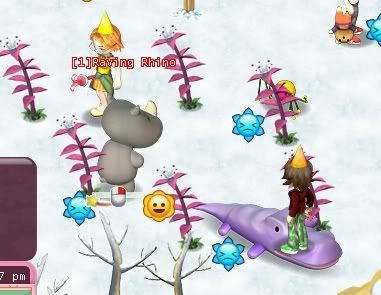 Along with the boxpigs that only get unhappy during the special event times, there are other monsters that pretty much stay unhappy. Including…
MC Mole Mayhem
Once again… the moles are out to get us.
That seems to be all for now. :/