Wednesday, May 30th, 2007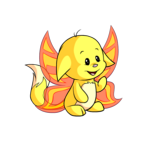 Isn't he adorable? Yes, it's a he. I don't really know what got to my head when I suddenly decided to create a male pet (I wonder if they'll ever allow these pets to mate XD)
And yes, that's a faerie paintbrush on him! D:
I really should have sold it — I'd have made big bucks. Shtupid, I know. But then look at him :3 Soooo adorable.
I just currently started playing neopets again xD Don't shoot me! Lol.
Oooh! I forgot to introduce him to you! His name is Tart1119
Don't ask me why
* I hate the monotonous wheel thing T_T I clicked another button in the site and I wasn't able to claim my prize — yes, it's the big wheel which takes a long time rolling before it stops.
** Is it just me or did the Potato Counter become wayyyy harder than before?
Tags: neopets, kacheek, tart1119, paintbrush, extreme potato counter